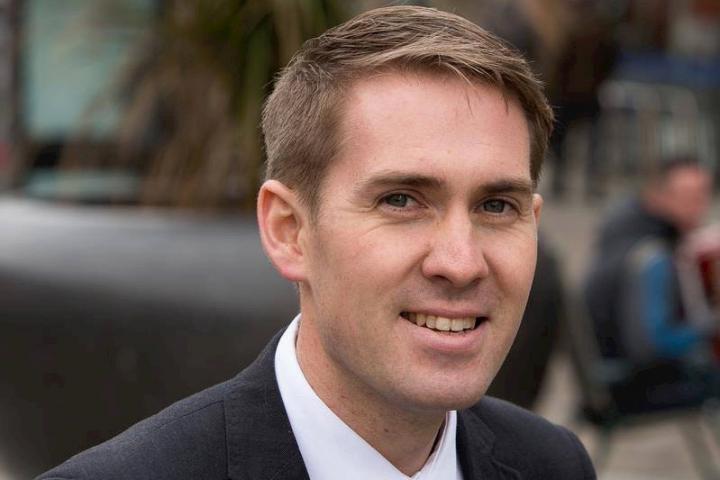 Sam Rushworth has been selected as the Labour candidate for Tatton in this year's snap election on June 8th.
Sam, 33, grew up in Blackpool attending local state schools, before studying economics at the University of Manchester.
He moved to Wilmslow in 2006 when he married Siobhain, shortly afterwards they bought a home together at Colshaw Farm. They have a son and two daughters who attend Wilmslow Academy and another daughter at nursery school.
Sam runs a small business that provides research and consultancy services to academics, charities and foreign governments working on education, peace-building and human rights issues. He previously worked as a lecturer at Macclesfield College and an associate tutor at the University of East Anglia.
Sam has also worked as a senior manager in the British Red Cross covering Nottinghamshire, Derbyshire and Cheshire; managed youth-clubs for children and young people with disabilities; and worked in community development for Stockport CVS. In 2012 they moved to Rwanda, where he spent two years teaching at a secondary school to collect data for his PhD research in Education and International Development.
Sam's says his promises for Tatton are:
1. Clean up our politics: Too often in so-called "safe seats" like Tatton, which always vote the same way, MPs take their constituents for granted. In Tatton we've had Neil Hamilton and his 'cash for questions' and George Osborne, with is miss-claimed expenses, second home flipping to avoid capital gains tax, and multiple jobs. If I am elected, I promise the people of Tatton that I will always live locally; be prudent with my expenses; publish my diary so my work for them is transparently full-time; and not take on any other paid work.
2. Protect local services against cuts: I will defend our local services, campaigning to keep the 378 bus route; standing firm against the planned downgrade of the Macclesfield A&E unit; and fighting cuts to our fire service, NHS and school budgets.
3. Back local businesses: As a business director myself, I understand the value of small business to our local economy and the struggles many face. I will fight for new rules to help local businesses flourish, including: scrapping quarterly reporting, cracking down on late payments, easing access to credit with new investment banks, and cutting business rates. I also believe in the active role of the state in backing our bigger employers. I will also fight for inwards investment and support local employers.
4. Create high-skilled jobs for the future: I will fight for Britain to stay ahead in a changing world by investing in education, infrastructure, research and innovation, and retaining the trade benefits of membership of the European Single Market.
5. Get a better deal for workers: Though I have been fortunate to go to some good universities, coming from a humble background I have also worked as a waiter, cleaner, shop assistant, and garden labourer. I have never considered those jobs beneath me, or any of us, but too often we fail to properly reward such workers. At the core of my politics is a belief that anybody who rolls up their sleeves and puts in an honest day of work should be paid enough to provide a decent standard of living for their families, but since the 1970s, ordinary workers have received a smaller and smaller share of the profits they create. I will fight for a £10 living wage and I will stop the Tories using Brexit as a cover to cut workers rights.
6. Give every pensioner a secure and happy retirement: Like everyone, I want my parents, who have worked so hard for me, to be able to retire in comfort and security. Labour is the party for pensioners. We introduced pension credit, winter fuel payments and free bus passes. The Tories plan to break the triple lock on pensions and have left social care in crisis. Labour will invest in universal social care and guarantee pensions keep up with inflation.
7. Back the next generation: The 2010 Tory/LibDem government hammered our young people. They scrapped Child Trust Funds, which are a proven driver of social mobility; cut SureStart despite promising not to; slashed youth service and FE college budgets; stopped Educational Maintenance Allowance payments that were helping young people from poorer homes afford the costs of attending college; and tripled university tuition fees. Now the Tories want to take funding from our local schools. I will make tackling child poverty and opening up opportunity for our young people my personal mission, and I will vote to increase school funding, bring back the maintenance allowance and cut tuition fees.
Sam Rushton will go up against the Liberal Democrats' candidate Gareth Wilson, Conservative candidate Esther McVey and Nigel Hennerley who has been selected to stand as Green Party candidate.
At the time of publication we are unaware of any other candidates who need to submit their application by Wednesday May 11th.
Articles announcing the other candidates standing in the General Election on June 8th will all be tagged below 'General Election 2017'.