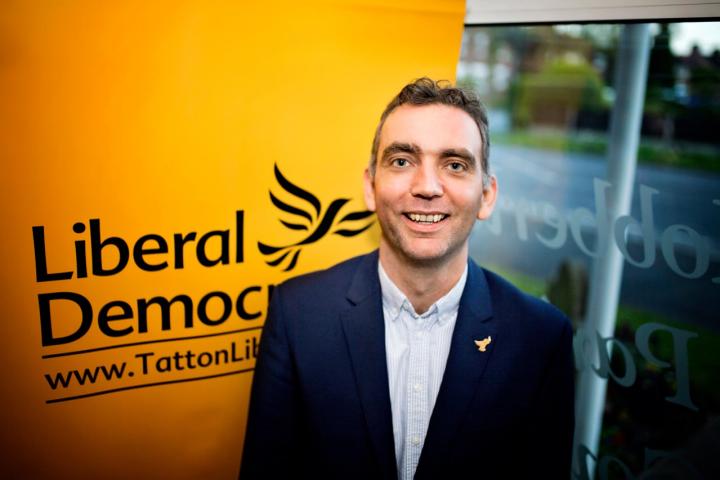 Gareth Wilson has been selected as the Liberal Democrats' candidate for Tatton in this year's snap election on June 8th.
Gareth, the Local Party Chair, stood against George Osborne in 2015. With a background in Economics and Design Director of a software company, he has been active in local politics for a number of years and led the recent campaign against a housing development in Mobberley, which was rejected in 2016.
At a national level Gareth is a Liberal Democrat Conference Representative and actively involved in a wide range of policy debates from economic policy through to care for the elderly. He also regularly writes for Liberal Democrat Voice.
Gareth was brought up in the area and currently lives in Mobberley with his wife and two young children, which he says gives him a clear sense of the issues which affect the people of Tatton.
The Liberal Democrats held their adoption meeting on Monday, 24th April, which they say saw a record turnout, far exceeding expectations.
At the meeting Gareth outlined the 4 pillars of his Manifesto for Tatton:
1. Opposing May's Hard Brexit, keeping Tatton in the Single Market and ensuring a referendum on any Brexit deal.
2. Fighting the devastating cuts to Cheshire's schools from the so called "Fair Funding Formula".
3. Protecting Macclesfield Hospital and actively campaigning against the disgraceful plans to close the Millbrook unit for mental health and dementia.
4. Defending Tatton's environment through protecting green belt, stopping fracking under resident's home and campaigning against HS2.
Gareth said "The main issue brought up by members was that of Brexit, Tatton was 55% remain and as such feel disenfranchised by the current Conservative and labour leadership. Members discussed the support from various local industries, from Farming to Pharma all with Brexit as their main priority."
He added "What a fantastic turnout to a hastily arranged meeting. People who have never been involved with politics are flocking to us as they fear the Britain they love is under threat from Brexit, intolerance and ideological cuts from this deeply right wing government.
"I believe we have the supporters and enthusiasm to take this seat from a complacent Tory party."
Gareth Wilson will be up against Conservative candidate Esther McVey and Nigel Hennerley who has been selected to stand as Green Party candidate.
The Labour Party have yet to select their candidate to contest the Tatton constituency in June's General Election. At the time of publication we are also unaware of any other candidates who need to submit their application by Wednesday May 11th.
Articles announcing the other candidates standing in the General Election on June 8th will be published shortly and will all be tagged below 'General Election 2017'.