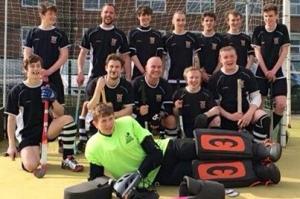 Alderley Edge Men's 5s have become the fifth team from the club to be crowned league champions this year. Making it 23 promotions without a single relegation in the past four seasons.
Going into the match Alderley Edge held a one point advantage over their nearest rivals, Bowdon. Knowing a victory over Sale would secure them the title Alderley put in a thorough performance and ran out winners by 4 goals to nil. The goals were scored by Roland Alston (2), Rob Thompson and Fin Allenby.
The Men's 1st team wrapped up their North Premier league programme by travelling to Ben Rhydding, in a game that for a long time looked like it would be remembered for the windy conditions rather than the quality of the play.
Ben Rhydding were tidy on the ball and happily kept possession in their back line, Alderley content to let them have it for the early stages. Then Alderley began to get more of a foothold in the game and they opened the scoring after good work out wide by Wildig, Gregory took the rebound from the 'keeper to pass to Warburton who was controlled in his finish.
Alderley were not as precise as usual, but the Rhydding 'keeper was the busier and Sam Gregory was causing his markers trouble. He continued to do so throughout and won a penalty corner that Jackson tested the 'keeper with.
The game ebbed and flowed and it was the Rhydding's turn to be awarded penalty corners the first of which was fired wide. They then won a second which was well saved by Riley and as Alderley tried to clear the ball hit a Rhydding stick and looped up in the air, Rhydding were awarded another corner and this was very well executed with a drag flick into the top corner.
The second half was similar, Alderley attacking with pace but turning over the ball a little more often than Rhydding who were more controlled and they were rewarded when a good passage of play lead to a reverse stick cross being turned in at the back post. Rhydding went into a 3-1 lead when Alderley were caught short at the back and the forward was played in and took his chance well.
Alderley have shown that they are made of sterner stuff these days and had only been beaten by the champions since the Christmas break. Driven on by Hughes and Mattingly they began to get the upper hand in possession and territory, Gregory unfortunate not to get more rewards for good wing play and Parr beginning to link midfield with attack. With five minutes to go Rhydding's crowd and bench certainly believed the win was theirs, but then Sam Gregory made an interception and raced into the 23. His pass found Adam Widig, whose first time shot flew through the 'keepers legs to make it 3-2. Then in the final minute Gregory was finally awarded a penalty corner and Jackson's flicked shot had too much on it for the home defence and levelled things up.
The draw means Alderley beat last season's points tally and sit in mid-table, showing a remarkable turn-around after being at the foot of the table in January.
The second team playing in their first ever season in the North league, finished in a highly creditable 4th place after drawing their final league game 3-3 with Lytham St Anne's. All Alderley's goals came from penalty corners, two by Laurence Barnes and one form Oli Wildig.
The 3rd team showed why they are league Champions battling hard to beat Macclesfield 6-5. This gave them a 13 point gap to second place.
The 4s romped to victory again cementing their place in top spot as they ran out 11-1 winners over Chester. They won the league by 6 points.
The sixes went down 3-2 to Crewe, but finished comfortably mid-table. The seventh team in their first ever season finished fourth as they beat Sale 6-0.
Photo: 5th team.
Match report by James Riley.
Tags: