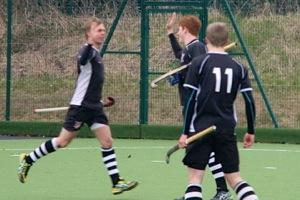 Alderley Edge climbed up the North Premier table with victory over City of York.
In an open first half Edge opened the scoring when James Warbuton was played in and he was upended by the keeper, he calmly coverted the resulting penalty stroke.
York were back on level terms when they took a sideline ball quickly and two well directed passes gave a simple back post finish. Sam Gregory linked well with Adam Wildig but the final pass was lacking or well defended, Coxon added impetus but Alderley could not add to their lead. York started to have the better of possession and won several penalty corners but Riley saved well and Alderley defended resolutely.
After the break Alderley were much stronger and started to win the midfield battle with Rob Hughes impressing. Mattingly was winning possession high up the pitch and the chances started to come. Warburton was on hand to make it 2-1 with a tidy finish. Wildig neatly deflected in Hall's disguised pass and it was 4-1 as Coxon neatly tipped in Jackson's driven pass.
York pulled one back when they worked an opening for a deflected finish. Andy Jackson got the goal his man of the match display deserved as he converted a penalty corner. Goal of the game was finished by Warburton for his hat-trick a quick break with neat passing lead to Gregory running into the D, he drew the last defender before playing in Warburton who chipped the ball over the on rushing keeper to add the icing on the cake. Final score 6-2.
The second team lost touch with the summit of North two, going down 5-2 at Liverpool Uni. Matt Hardy with a penalty stroke and James Warburton were the scorers. The 3s continued their serene march at the top of the table winning 6-1 against Runcorn 1s. Alston and Godfrey both scored penalty corners.
The fourth team drew 3-3 with Neston. 5th team won 7-0 away at Knutsford 3s. The 6s also won well 5-0 against Brooklands 5s. The 7th team claimed local bragging rights beating Wilmslow 4s 3-2 despite not having a goalkeeper.
Photo: Sam Gregory, Andrew Jackson and Rob Hughes celebrating.
Match report by James Riley.
Tags: