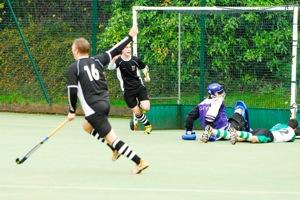 Alderley Edge 1st XI Vs Gateshead 1st XI.
For the first game of the season Gateshead made the long journey down from Newcastle to play Alderley. On a surprisingly warm day at the Edge both teams seemed eager to get their campaigns under way.
It was of no surprise that the first 10 minutes were cagey with neither side wanting to risk too much going forward. However, it was Alderley who seemed to be the more confident in possession. Unfortunately they were unable to create any meaningful chances in front of goal, and against the run of play Gateshead took the lead following a scrappy few seconds within the Alderley area. Conceding seemed to rattle the Alderley team and they conceded again within 5 minutes leaving the side to go into half time very dejected.
Thankfully for the Alderley side, and the crowd that had gathered, the second half began much more positively, with the midfield three of Bryant, Hughes and Parr all beginning to exert much more pressure on both the Gateshead midfield and defence when they were in possession. A few incisive runs by Andy Jackson saw the tide begin to turn as Alderley finally converted one of their opportunities in the second half with James Warburton converting from close range after fantastic work by Sam Gregory.
The goal lifted the side and the back line of Whitehead, Badger, Cook and Jackson began to start dictating the game. It was not long before another mistake was forced by Joe Coxon's relentless pressing of the Gateshead defence and it was Sam Gregory who grabbed the equalizer with around 20 minutes to go. Gateshead had begun to tire by this point and the third goal was eventually scored after some wonderful build up play from both Sam and Ben Gregory, with Warburton on hand to finish off what would turn out to be the winner.
Despite a late flurry of pressure from Gateshead, Alderley managed to hold on for victory. It was a close game but one that Alderley will look back on as three points well earned.
Throughout the rest of the club the 2s were victorious over Bebington 1st XI in their first game after promotion, with Wildig scoring 4 in a 5-1 victory. There were also wins for the 3s and 4s 6-0 and 7-1 respectively with hat tricks from Rob Marks and Chris Ashton.
All in all it was a very successful opening weekend for the club and one that all the teams will hopefully develop upon.
Match report by Ben Whitehead.
Tags: