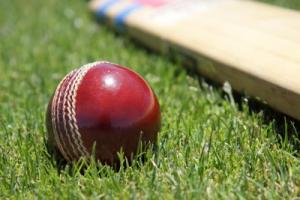 Benefiting from the interlude between the incessant rain of Friday and Sunday, Alderley Edge 1st XI notched up their 6th win from 7 matches on Saturday at home to Didsbury, completing a fantastic run of results during August and September.
Put into bat, Alderley's top order batsmen did not find batting easy against a highly motivated Didsbury team fighting against relegation. Only Jason Whittaker of the top 8 batsmen put any notable runs on the board, his patient 54 holding the innings together. Then at 122-8, number 10 batsman Chris Cook strode to the wicket and proceeded to smash the bowling all over and indeed out of the ground to rattle up 52 not out, from only 36 balls including three successive towering sixes. This allowed Alderley to end their innings on 193-8, a much more challenging total than at one time seemed likely.
When Didsbury started to bat, they found the going no easier, and seam bowlers Whittaker, Cook and Tom Foreman soon got amongst the batsman. Despite resistance from their captain Anderson and the stylish Marfani, Didsbury were bowled out for 170, and were therefore unable to avoid the 'drop' into Division One of the Cheshire County League.
Alderley, on the other hand, finished in fourth place in the Premiership, an exceptional effort from the players in what is a highly competitive league. At the after-match end of season presentations, chairman Andy Fluck praised both the 1st XI and 2nd XI, who also finished near the top of their division, on an excellent season, for which respective captains Alan Day and Tom Wildig deserved great credit.
Leading 1st XI batsman of the season was Calum Rowe with a total of 800 runs, and Jason Whittaker was once more the outstanding bowler, taking 67 wickets. Ollie Wildig and Dan Fesmer (who took a season's best 6-67 on the final day) won the corresponding trophies for the 2nd XI. Awards were also made to outstanding young players Harry Bateman and Edward Fluck, while club secretary and 1st XI scorer Kate Branagan was again deservedly named "Clubman" of the Year for her sterling efforts.
The season therefore ended on a very high note, with everyone looking forward to another successful and enjoyable campaign in 2014.
Match report by Richard Davis.