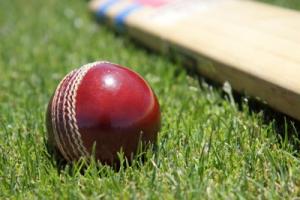 Alderley Edge 1st XI chalked up a second successive victory on Saturday and took a huge step towards ensuring they will be playing premiership cricket again next season.
Facing reigning triple champions Nantwich on their own ground, Alderley's batsmen enjoyed their best day of the season so far, running up a mighty score of 299-5 from their 55 overs, with excellent innings from Calum Rowe (89), Adam Worrall (71 not out) and Mark Currie (66).
When Nantwich batted, Chris Cook picked up two quick wickets but then followed an impressive stand of 126 between Cheshire batsmen Kettle and Cooke-Sievewright, who scored an immaculate maiden century, and while they were together Nantwich were very much in the hunt. However, Kettle was dismissed by Charlie Reid to the first ball after the drinks interval. Further wickets fell regularly thereafter, until Nantwich were finally dismissed 50 runs short on 249.
One very pleasing aspect of the day was the extent to which Alderley completely out-fielded their opponents, Jon Steele leading the way with a fine catch and a key run out.
On a good day for the club, the 2nd XI also rediscovered their winning ways with a 5 wicket win at home to Nantwich, whose useful score of 225-4 was overhauled with just under 3 overs remaining, the principal contributors to a very good team performance being Jonnny Usher (57), Paul Manton (55) and Oliver Wildig (45).
Match report by Richard Davis.