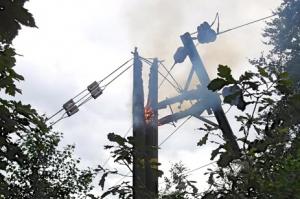 Two telegraph poles carrying power cables were involved in a fire in Nether Alderley this morning.
One fire engine from Macclesfield and one from Wilmslow were called to Nursery Lane at 6.38am.
One pole was completely burnt through, leaving power cables hanging over the road which was closed by police at the request of the firefighters.
50% of the second pole was burnt through and the crews cordoned off the area to wait for the arrival of the electricity board.
A fire engine remains at the scene while the electricity company deals with the power cables as the pole continues to burn. Nursery Lane is partially closed.
Update provided at 10:30am: One fire engine from Wilmslow is still in attendance. One pole is being allowed to burn and firefighters are standing by until the electricity company has earthed the cable attached to the pole and confirmed that no electricity is present. Only then will the crew extinguish the fire using water.
Updated provided at 12:45pm: The electricity supply was confirmed as isolated and earthed. Crews used one hose reel jet to extinguish the fire then the incident was handed over to the electricity company.
Tags: