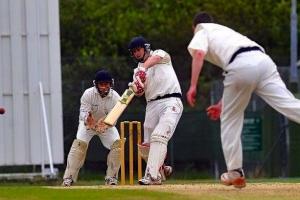 Alderley Edge 1st XI slipped to another defeat on Saturday at the hands of league leaders Neston. A disappointing level of unavailability meant that there were some unfamiliar faces in the Alderley team.
Alderley's openers Mark Currie (47) and Alan Day (35) laid a solid foundation to the innings, but after they were dismissed Alderley did not manage to increase the run rate at a crucial stage, and ended up with a total of 178-8 from 55 overs, which looked inadequate against a strong Neston batting line-up.
Opening bowler Chris Cook struck two early blows, but this was followed by an excellent century stand between Hurst and Camden, and at 125-2 Neston looked to be coasting to victory. At this point Alderley's spinners Day and Charlie Reid picked up four quick wickets – one to a brilliant catch from debutant Jonny Scurrah.
For a while the result was in the balance, but some big hitting from the experienced Hackett eventually saw Neston home to a 4-wicket victory.
Unfortunately the 2nd XI also suffered a defeat at the hands of Neston, providing a setback to their title challenge. Alderley's last "man" (in fact, promising junior ladies player Katie Haszeldine) was dismissed in the last over as Alderley's innings closed on 175 all out in response to Neston's 227-7. The 2nd XI do however have the prospect of the T20 Knock-Out Finals Day next Sunday at Chester to look forward to as they bid to bring silverware to the club.
Match report by Richard Davis.