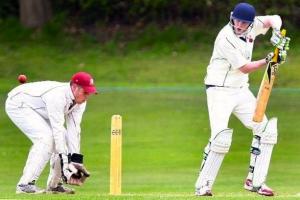 Hovering just above the relegation zone, on Saturday Alderley Edge visited Bowdon, one place below them in the league table, in a must-win match.
Weakened by the absence of both regular opening bowlers, in the early overs Alderley's attack was not surprisingly plundered by Bowdon's openers, former Lancashire all-rounder Simon Marshall and top grade Australian Trent McCormick. Alderley seemed likely to be chasing a huge score, but a tight spell from Calum Rowe followed by outstanding bowling in tandem from spin twins Mark Warnes (5-67) and Charlie Reid (3-30) brought Alderley right back into the match and restricted the home side to a manageable 212-9 from their 55 overs.
Alderley's reply started well with Mark Currie and Alan Day putting on 50, and when Rowe was out after a useful contribution, Alderley required under 100 from the final 20 overs with 8 wickets in hand. At that point it was the turn of Bowdon's experienced, quality spinners, Marshall and Gareth Edwards, to turn the screw, and Alderley's middle order faltered.
When teenager Andrew Jackson came in at number 8, with less than eight overs remaining, over 50 runs were still needed and a victory seemed a long shot, but he proceeded to take the Bowdon attack apart with some blistering hitting, notching 39 in only 20 balls with three enormous sixes. When he was out in the last over, only two runs were required, and the winning run was fittingly scored by Mark Currie, who returned to form in no uncertain terms, batting throughout the innings and finishing tantalisingly on 99 not out, one short of a century that he richly deserved.
With the 2nd XI also weakened, they performed well to hold Sale to a draw. Good bowling from Harry Bateman, Ben Heades and 13-year-old Edward Fluck kept the visitors to Moss Lane down to 209-7, giving Alderley a chance, but despite some good starts none of the batsman got past the 30s, and 3 run outs did not help the cause. Alderley got close but finished on 182-9.
Match report by Richard Davis.