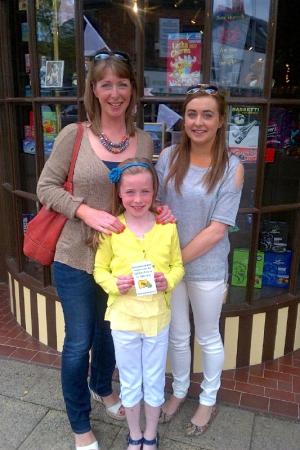 A lady who spent two hours volunteering at this year's Alderley Edge May Fair has won the 'Golden Key to Alderley'.
Sara Pedersen, who works part time for Cheshire East Council as a Business Support Assistant, had offered to help at the May Fair with her friend as part of Council's voluntary scheme.
She heard about the prize last week when she attended a meeting about volunteering at the Fair and thought it sounded superb, hence she bought her programme when she entered the park.
Sara, 46, lives in Macclesfield with her husband Mark and daughters Mia (7) and Jodie (17).
She told alderleyedge.com "I really can't believe that we have won this fantastic prize. I have never won anything so amazing and I am absolutely chuffed to bits."
Sara added "I checked the website for the winning numbers on Sunday morning and it was my husband and two daughters, Mia and Jodie, who went down to Mr Simms to collect the prize. Mia selected the lucky chocolate bar and she brought it home so we could all share in the excitement of opening it up.
"The neighbours must of wondered what on earth was going when we found out we had won as the shrieking and screaming from us all was unbelievable! The ironic thing was that Mia had actually been watching Charlie & The Chocolate Factory on Saturday morning!"
Sara has won the 'Freedom of Alderley Edge for the Weekend' with a selection of prizes donated by local businesses. These include an overnight stay, three meals, champagne, a haircut, a beauty treatment, teeth whitening, children's treats and a three day juice detox to help her recover from a weekend of indulgence.
Kath Foster organised the competition to help raise money towards next years May Fair which is a free community event organised by a dedicated team of volunteers.
She explained "We decided that rather than try and source one large star prize it would be great for all the local businesses to team up to showcase the fantastic range of businesses we have in Alderley Edge and give a lucky winner a weekend to remember!"
Numbered programmes were sold for £1 each, organisers then drew 20 numbers at random and each of the winners had to go along to Mr Simms Old Sweet Shoppe to claim a free bar of chocolate, inside one of which was the Golden Key to Alderley.
Some of the chocolate bars are yet to be claimed so if you have a programme with any of the following numbers pop along to Mr Simms Old Sweet Shoppe to collect your chocolate.
1539, 1613, 1742, 1750, 1793, 1830, 1922, 1995, 2195, 2274, 2392, 2464, 2625, 2748, 2787, 2802, 2806, 2818, 2917 and 2930
View our earlier article 'All the fun of the 2013 Alderley Edge May Fair' for a selection of photos taken on the day.