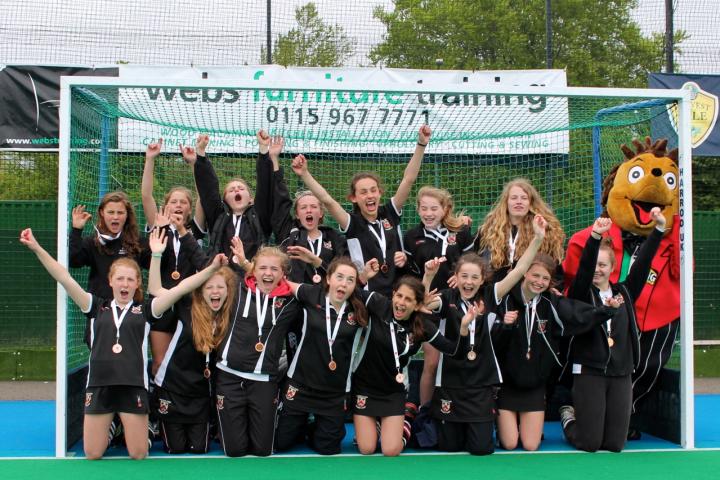 The Girls under 14 team at Alderley Edge Hockey Club have won bronze medals, finishing third in the EHB National Championship Finals at Beeston, Nottingham on Sunday, 14th May.
The Edge team secured a place in the finals by winning the Cheshire Championship and then the North Regional finals without losing a single game or conceeding a single goal.
In a very close competition they had to settle for third place, despite maintaining their season long unbeaten run in the group stage.
They were placed second in their group only after a penalty stroke competition to decide who topped the group, having finished joint top with identical points and goal difference as Teddington.
This followed victory against Dereham and a draw with Wycombe and Teddington. Edge were winning the Teddington game with just two minutes to go when a late equaliser dashed hopes of a place in the final.
Alderley then played off for third place against Cambridge City and controlled the match to run out comfortable 2-0 winners with goals from Lily Wolstenholme and Ellie Burns.
The highly talented team was coached all season by Alderley Edge Ladies 1st Team Captain Tessa Bryant and managed by Manjit Wolstenholme. The girls clearly have bright hockey futures with many representing Cheshire and currently being assessed to play for the North of England.
Alderley Edge Hockey Club Secretary Kelvin Briggs was well impressed by girls achievement.
He commented "They were a credit to the club, displaying great skill, pace and teamwork. It was so cruel to miss out on a place in the final with that late goal costing them dear and the heartbreak of losing the penalty shoot out. Despite all the drama they went out and played a super 3rd/4th playoff match and were worthy bronze medal winners. Third best team in England is quite an achievement for a village club."
This ends another hugely successful season for Alderley Edge Hockey Club, which runs seven men's, six ladies and a host of junior teams.
The Club won the Cheshire Sports Club Of the year award for the two years running.
For further information visit www.aecc.org.uk or ring Club Secretary Kelvin Briggs on 07825 213205.
Tags: