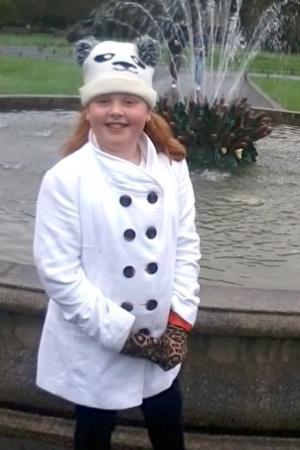 A very brave 8-year-old girl has selected to be the Alderley Edge May Fair Queen.
For the first time this year organisers of the May Fair decided to introduce a May Fair Queen who will take part in the procession through the village on Saturday 18th May.
Local residents were invited to nominate local children and Rianne Braisdell, of Elmfield Close, was selected as the lucky winner having been nominated by her mum Carolynne because of her continued support and bravery.
Rianne attends Alderley Edge Community Primary School and is the younger sister of Jordan and Seanah.
Christine Munro, organiser of the Alderley Edge May Fair, said "The past 15 months have been very difficult for the family as Rianne's daddy has had health problems, however Rianne has been supportive throughout for her daddy and mummy whilst dealing with her understanding of her daddy's illness. Rianne is a caring, considerate girl with lots of love to share, she is a happy positive child who brightens up each day.
"The Alderley Edge May Fair committee are absolutely delighted to have selected Rianne as our May Fair Queen."
Carolynne told me "I nominated Rianne, without her knowing, because she has been very brave. Her dad has been quite poorly, it has been a big change for her and she has been supportive of me and dad.
"Rianne is kind, caring and quite mature for her age."
Carolynne added "When Christine told her she was quite shocked and she jumped on a chair. She was so excited and really chuffed."
Rianne will take part in the May Fair parade, which will set off from the playing field on Chorley Hall Lane and proceed down London Road, onto Ryleys Lane and into the park where there will be a whole host of attractions and entertainment throughout the day.
The third Alderley Edge May Fair will take place on Saturday 18th May from 11am to 5pm - so keep the date free as it is sure to be another fantastic day for the community.
If you would like to volunteer to help with the Alderley Edge May Fair email Geoff Hall or join their next meeting on Tuesday 23rd April, 7.30pm at The Festival Hall.
Tags: