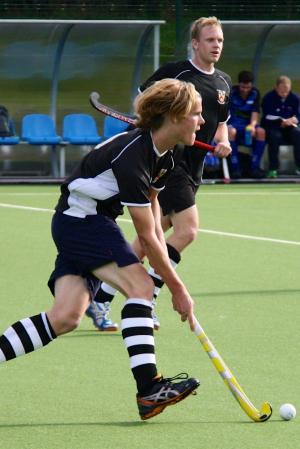 Alderley Edge men's first team left it late again in their visit to Brooklands in the North Premier League.
Starting brightly Alderley Edge put the Brooklands back-line under pressure through the endeavours of Gregory, Warburton and Coxon without creating any clear cut opportunities.
Against the run of play the first real chance fell to Brooklands who were awarded a penalty corner for a foul outside the D, this was saved spectacularly by Tim Pont on the line volleying the ball out of the compound.
Alderley took heart and continued to work hard with Whitehead and Hughes gaining more control in the middle. Then with good link up play up the right, involving Jackson, Kay and Drummond, James Warburton was given the chance to drive towards the D. He hit a rising reverse stick shot giving the 'keeper no real chance and putting Alderley Edge 1-0 up.
Badger and Sibley were coping well with the Brooklands attack that was often lacking in finesse and allowed Alderley to look dangerous on the break.
The game became a little frantic with neither team able to put a stranglehold on it. Pont's driving runs and Gregory's pace out wide were creating problems for Brooklands with Bryant and Williams able to provide solidity to the middle. However Brooklands were happy to leave 3 or 4 attackers high up the pitch and look for quick counter attacks.
As the game got late into the second half both sides were warned for untidy challenges and Pont was sin-binned for being the next offender for a tackle in midfield. The numerical advantage saw Brooklands win a series of corners but these were well defended and Riley made a smart diving save.
The momentum was with the hosts and they grabbed an equaliser, when another corner was initially saved, but the rebound was picked up by an attacker and he had time to pick his spot and level the scores.
Alderley went chasing a winner with defenders flying forward and an almost siege mentality and it paid off as they were awarded only their second corner of the game, the initial shot was saved but not convincingly and the ball fell just in front of goal, allowing Sam Gregory to find a reverse stick finish with less than a minute to go.
Alderley Edge ran out 2-1 winners and keep in their survival hopes alive as 3 points now cover 4 teams with 5 games to go.
There were more straight forward wins for the Men's 2s and 3s; the second team beat Brooklands 6-1 in a game closer than the score suggested. Sam Baker proved to be the difference showing a goal poachers instinct and grabbing a remarkable 5 goals. The other goal coming from a Laurence Barnes penalty corner.
The third team maintained their incredible season recording their 18th straight victory, with a 6-1 victory over City of Manchester.
The 4th team suffered their second successive heavy defeat 8-0 to Chester. Meanwhile the 5s and 6s look like they will be battling it out for the league title as they both won at the weekend 8-0 vs Stockport Bramhall and 3-1 vs Knutsford respectively, with their rivals slipping up. The 7s went down 4-3 to Deeside Ramblers.
Match report by James Riley.
Tags: