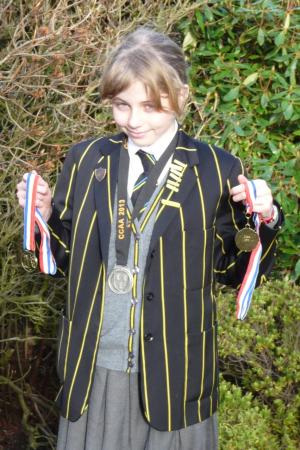 Ryleys pupil Georgina Denham has had a very busy and successful start to 2013 with outstanding results in sporting competitions.
The Year 7 pupil is a regular cross country and triathlon competitor and on Saturday, 2nd February, Georgina was first in the Year 7 Cheshire County Schools Cross Country Championships, which is a fantastic achievement.
As a result of this performance, she has been selected to represent Cheshire in the race against Merseyside at the forthcoming Inter Counties Cross Country event next month.
Instead of enjoying a relaxing Sunday, Georgina followed up her cross country success by competing in the Wirral Tristars & Youth Aquathlon. She got the 2013 Triathlon season off to a flying start by winning the Under 12 race, consisting of a 250m swim and a 2,000m run.
Head of Sport Paul Jakubowski said "Georgina is a dedicated competitor who trains hard and deserves every success. We are looking forward to seeing the first Ryleysian Olympic medallist in the future!"
Tags: