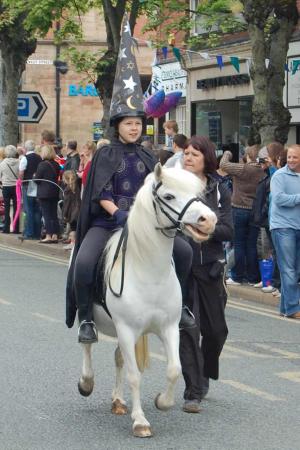 With less than a week to go until the 2012 Alderley Edge May Fair a last minute hitch means there is likely to be heavy congestion in the village next Saturday morning whilst the fair is being set up.
Last year people setting up in the park for the May Fair entered via the car park on Ryleys Lane and exited on to Chorley Hall Lane by travelling down the track alongside the allotments.
However, organisers have been told that they are not allowed to use this one way system this year.
Christine Munro, who organises the event, received notification from Cheshire East Council on Friday, 11th May, that everyone exhibiting at the May Fair would need to both enter and exit via the Ryleys Lane car park - which is expected to cause serious hold-ups.
Christine explained "Someone has complained to the Council about the use of the park for last year's May Fair. Whilst Cheshire East Council own the land they do not own the right of way. Network Rail own the right of way but with only a week to go there is not enough time to get the paperwork done.
"I am very sorry but there is absolutely nothing we can do about it. I apologise for any inconvenience caused. We are trying our best to minimise the congestion as much as we can. We are arranging for some stalls to set up on Friday and have security overnight but this doesn't work for everyone and quite a lot of people will be making more than one trip.
"Traffic is expected to back up on Ryleys Lane and London Road. It will be monitored by police and we will do our best to bring people in at different times. We are setting up a rota and starting at 6am but there are so many people and animals coming."
The issue was raised at the Alderley Edge Parish Council meeting on Monday, 14th May. Councillors explained that one allotment holder on Chorley Hall Lane who keeps hens had complained to Cheshire East Council that he didn't want his hens disturbed.
Cllr Melanie Connor described the decision as "very disappointing" particularly given that Cheshire East Council has maintained the road for many years which has been regularly used for access.
Whilst some people will be arriving from 6am, it is expected that the congestion will start to build up about 8am so local residents are asked to avoid the area if possible.
The car park at Ryleys Lane will be closed to the public on both Friday and Saturday to give the organisers more opportunity to get the fair set up.
Tags: