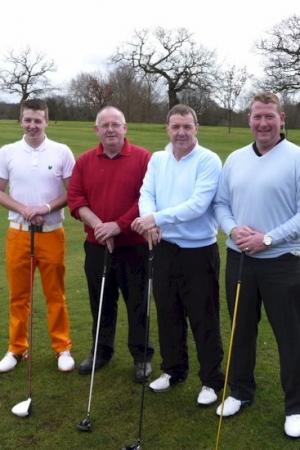 Alderley Edge Golf Club marked the start of their new season with the traditional match between the Captain's and President's teams.
Teams representing Captain Rick Ford and President Brian Foden, who are both Alderley Edge residents, competed in the four ball game on Saturday, 17th March, with the Captain's team winning 12-8.
The club has a thriving Junior section, run by Vice Captain Paul Penney, and a raffle and auction after the post-match dinner last night raised £1300 towards running the junior teams for 2012.
Rick Ford said "My charity this year is the East Cheshire Hospice and I'm trying to raise as much many as I can over the next 12 months. I know people who have had relatives and friends at East Cheshire Hospice and I know what a fantastic job they do."
Photo: (l-r) Max Penney, President Brian Foden, Captain Rick Ford and Vice Captain Paul Penney.
Tags: