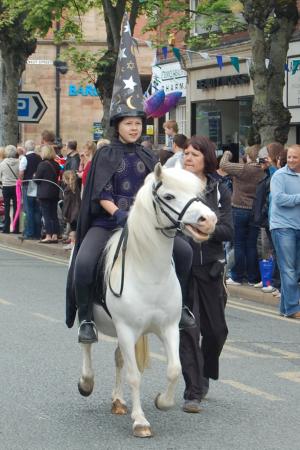 The Alderley Edge May Fair is set to return bigger and better this year with an Olympic theme.
Fourteen volunteers met last week to discuss some new ideas for the second Alderley Edge May Fair which will take place on Saturday May 19th.
The procession will start from the Festival Hall at 11am led by the Wizard and his white horse, who will be followed by bands, dancers, entertainers, vintage vehicles, fancy dress competitors and any schools or local organisations who would like to join in.
Christine Munro, who is organising the event again this year said "The entertainment in the arena and bandstand will start at 12 noon. We are hoping to have some different acts and entertainers this time so if any local organisations of clubs would like to perform in the arena or bandstand we would love to hear from them, we have already got some booked in but there is plenty of room for more."
New attractions for this year include a fun dog show organised by Paul Chilton, which will start at 2pm, and some new fairground rides.
The dog show will feature eight classes and from the winners of these the judges will choose Best in Show and Reserve Best in Show. Winners will be presented with cups and rosettes.
Christine added "At around 4.30pm we will be holding the Children's Party to celebrate the Queens Diamond Jubilee. The Emerson Foundation have very generously donated £1,000 towards this and we are organising party food and entertainment in the marquee and this will probably go on for one to one and a half hours.
"We will probably have to issue tickets as the marquee will only take a certain number of children for health and safety reasons, but we are working out how to do this at the moment."
They also discussing the possibility of holding an evening do with dancing under the stars.
Christine said "All the committee were keen to do it but I think we would need more help, particularly when we have been working all day. I don't know if I could manage to keep going after 8pm when I have started at 6am that day!!!
"One other thing we are doing which is new this year is we are holding a raffle at the gate. We already have some great prizes and if everyone would buy one ticket when they come into the park then we can ensure that the May Fair will be self sufficient and we will be able to hold it every year.
"We have money raised from stall fees and donations at the last event in the May Fair bank account, and have been promised help with funding from the Institute Trust again this year. We have also applied to other organisations for help. We just have to ensure this year that we can raise sufficient so that we have a cushion in the bank ready for the May Fair 2013."
Tags: