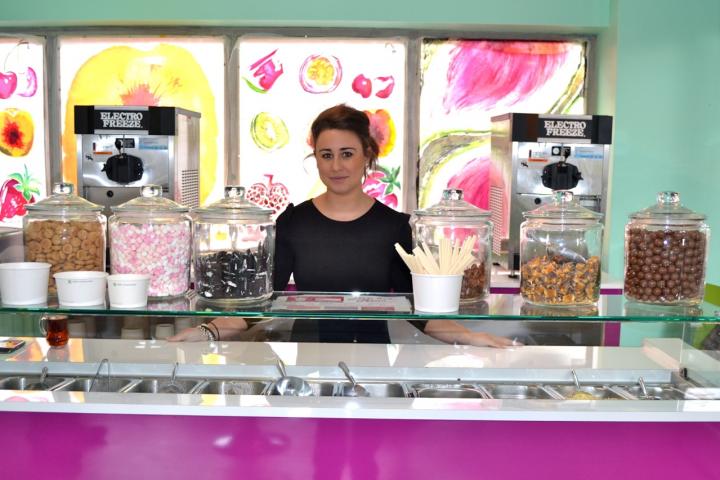 A new frozen yoghurt and ice-cream bar has opened at Highams garage on Alderley Road, ahead of the imminent launch of their American style deli.
Deli Ice serves real dairy frozen yoghurt and ice-cream from a farm in North Wales. A range of toppings can be added to the yoghurt and ice-cream, including a selection of fresh fruits for those wanting a healthy snack as well as a variety of treats including chocolate brownie, marshmallows, chocolate drops, toblerone and hot chocolate sauce.
Ilana Higham, pictured above, is managing Deli Ice whilst her younger sister Nadia has created all the artwork including an Alderley Edge collage featuring some old and very interesting local memorabilia.
Deli Ice is the first stage of the redevelopment, located in the building previously used for offices and alongside the round car showroom which will reopen in about two weeks as Aldeli, serving hot and cold sandwiches as well as fresh and healthy salads.
Stephen Higham explained "The round showroom was originally built by Total Oil Co. as a showcase petrol filling station and lubrication bay in 1961. Only a few years later electronic self service pumps were introduced with wide lanes, making the site no longer suitable for petrol sales.
"Although we have used the building as a car showroom it was far from ideal and for many years we have looked for a suitable use for the very iconic building.
"There are lots of eateries in the area but few to offer wholesome food at an affordable price. We are trying to create a friendly 'coffee shop' environment for people to eat and drink casually. We have constructed a large terrace which has got outside heaters and permanent shelter from our inclement weather and we will be offering the use of shisha pipes. We look forward to seeing you soon."
Deli Ice is open daily from 8am until 7pm.
Tags: