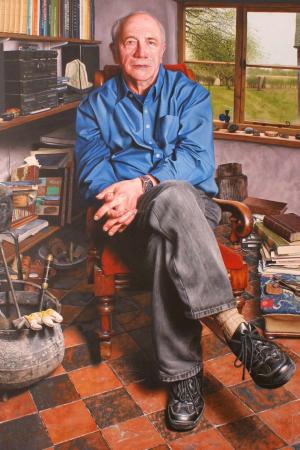 Alan Garner was an only child, born in Congleton on 17th October 1934. His father's family had been craftsmen and lived in the same house in the Hough area of Alderley Edge, without a break of tenancy for centuries. 'The Weirdstone of Brisingamen' was Alan's first book. He started it on Tuesday 4th September 1956 and it took two years to write, a year to find a publisher and a year to eventually publish on 10th October 1960. It has been in print ever since and this year, on the 10th day of the 10th month of 2010, it is 50 years old.
To celebrate, Grosvenor Museum are staging an exhibition dedicated to the work of Alan Garner. It explores the story of 'The Weirdstone of Brisingamen', along with the Legend of Alderley and the history of Alderley Edge, which provided Garner's inspiration. On display will be collections of archaeology associated with Bronze Age Alderley Edge and also items exploring its geology.
All but one of Garner's books are set in Cheshire and they take inspiration from the landscape and folklore of this county. The exhibition will therefore also explore other work by Alan Garner and there will be displays of collections personal to him which feature in his books.
The highlight of the exhibition is a portrait of Alan Garner painted by Andrew Tift and commissioned by the Grosvenor Museum especially for this exhibition. Andrew Tift is a BP Portrait Award winner and the picture shows Alan in his study surrounded by many of the objects which are special to him.
The exhibition is supported by a range of events both in Chester and Alderley Edge. The climax to the celebrations will be a weekend festival in Alderley Edge from October 8th to 10th. In addition to guided tours above and below ground, organised events include: a medieval interactive storytelling,commemorative displays, a medieval fair and a talk by Alan Garner about his relationship with the Edge, the people of Alderley and their stories.
A website has recently been launched to provide full information on 10-10-10, the celebration of the fiftieth anniversary of the publication of The Weirdstone of Brisingamen.
The exhibition opens at the Grosvenor Museum, Chester tomorrow, 18th September and runs until 28th November 2010. The Museum is open Monday to Saturday from 10.30am to 5pm and Sunday 1pm to -4pm, admission is free.
Photo: Portrait of Alan Garner by Andrew Tift commissioned by the Grosvenor Museum and funded by a V&A/MLA Grant and the Grosvenor Museum Society.