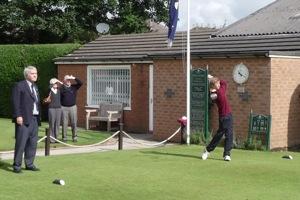 Cheshire played neighbours Lancashire in a boys mixed-age golf match at Alderley Edge yesterday. Players came from clubs across each county and each team comprised 12 players, 4 under 16s, 4 under 15s and 4 under 14s. The format was six foursomes matches followed by twelve singles matches after lunch.
This was Alderley's first time hosting an inter-county match. Alderley Edge Golf Club was chosen by the Cheshire committee as it is an excellent course and one particularly liked by Ian Niven, the county president, who felt it was an excellent venue for this fixture.
The match was a great success, attracting quite a number of spectators and despite being briefly interrupted by lighting it was completed before a big deluge.
Alderley's Tom Lawton, aged 16 and handicap 3, made his county debut in the match, he won his foursomes match but lost his singles to Ian Stirling from Formby GC. The final result a resounding 13-5 win by Lancashire.
Both teams and officials spoke highly of the condition of the very challenging course and Alderley hope to host further such matches in the future.
Picture: Alderley's Tom Lawton driving from the fist tee.
Tags: