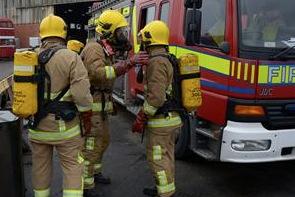 Three fire engines from Wilmslow, Poynton and Cheadle were called to a house on Redesmere Drive in the early hours of this morning (Monday, 2nd October).
Four firefighters wearing breathing apparatus were deployed at 2.30am to tackle a well-developed fire in a domestic garage. They used two hose reel water jets and a safety jet to extinguish the fire, which is believed to have been caused by a fridge freezer.
A large specialist fan was used to clear smoke. Crews were at the scene for around 2.5 hours.