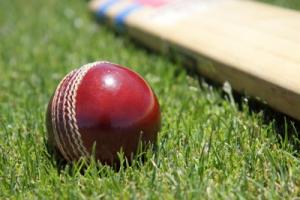 Alderley Edge First XI were left frustrated by the Bank Holiday showers on Saturday as the weather scuppered their chances of extending a lead at the top of the Cheshire County Premier League against bottom side Brooklands.
Heavy overnight rain delayed the start of the contest at Moss Lane and forced an immediate interlude after 4 overs with Sam Perry having won the toss and elected to bowl first. When Alderley did manage an extended period on the field Chris Sanders made a quick impact claiming the first 5 wickets to fall in taking 5-32 to put the hosts in the box seat at 5-52. Brooklands' number 4 Kevin Carroll hit a quickfire 39 from 34 balls, striking a brace of 6's to keep the visitors in the contest until he miscued one and was caught at Third Man off James Naylor.
AJ Hart's 20 from number 8 helped Brooklands' total into three figures until a wicket apiece for Dan Fesmer and Charlie Reid left them on 115-8, there followed another run-out executed by Andrew Windle leaving Archie Vaughan to wrap things up by ending Daniel O'Gorman's 23-ball resistance with the score on 119. The strong display with the ball claimed back a crucial ten overs for Alderley in the shortened contest to utilise for their chase. But that was to be thwarted after just 7.2 overs with the hosts progressing steadily on 27-1 as heavy rain followed by a torrential thunderstorm put paid to any chances of concluding the match. Alderley took 7 points from the contest to remain 21 points clear of Didsbury at the top of the league with three matches of the season remaining.
Alderley's Second XI were left similarly frustrated after a downpour at the tea interval scuppered any chance of a second innings after they had racked up 212 against Stockport Georgians. Opener Liam Yahathugoda hit 63 and Tejas Rao 64 to help Alderley post a strong total as they picked up 10 points from the contest, Josh Friel the pick of Georgians' attack taking 4-63 as the hosts collected 7 points.
Match report by Andrew Windle.