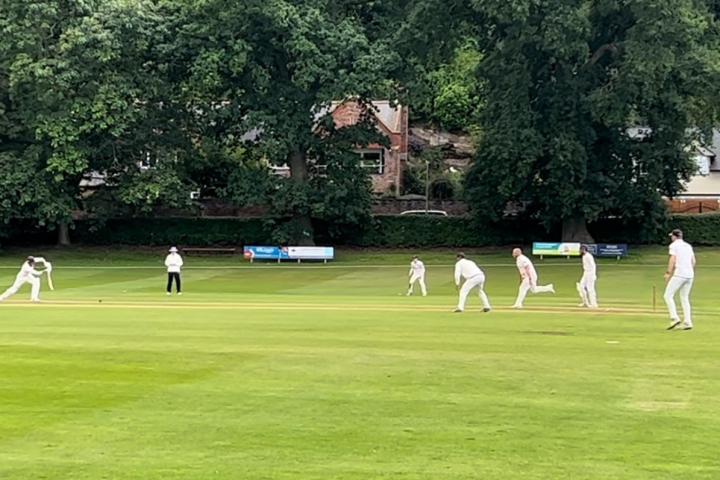 Alderley Edge First XI put further distance between themselves and the chasing pack at the top of the Cheshire County Premier League with a hard-fought win over Nantwich at Moss Lane on Saturday.
Winning the toss Nantwich chose to bowl first amid blustery conditions but failed to take advantage as several catches were spilled in the opening ten overs of the game, primarily off the bowling of the returning Jimmy Warrington. It was left to Warrington himself to hold the first catch successfully, claiming Ben Kohler-Cadmore for 26 after an opening stand of 44 had given the hosts a solid platform.
Captain Sam Perry and number 3 Subhaan Mahmood took full advantage of the strong start piling up a partnership of 185 for the second wicket as Nantwich failed to find any answer to the pair.
Perry completed a superb hundred before Mahmood was dismissed by Mitchell Spencer for a well-made 75, Perry eventually falling to opposition skipper Ray Doyle for 122, including 18 fours and 1 six. Spencer continued to pick up wickets as Alderley's batsmen looked to step on the accelerator towards the end of the innings, the Nantwich seamer finishing with 7-75 from 16 overs as the hosts closed on 259-8.
Andrew Windle landed the first blow for Alderley in the second innings removing opener Jake Pearson with the score on 19 before Luke Robinson began to counter-attack for the Dabbers from number 3 hitting 53 from just 51 balls with young opener Ben Wright digging in to support as the pair put on 80 for the second wicket. Charlie Reid made the key breakthrough as Robinson mis-timed a sweep on to his pad that was collected by wicketkeeper Ed Foster running round from behind the stumps.
Jimmy Naylor struck next having Jason Foulkes caught behind before Reid claimed Wright lbw for 44 as Nantwich slumped to 124-4. The visitors rebuilt through Ray Doyle and Spencer Byatt who added 48 for the fifth wicket before Reid claimed both via two good catches on the deep midwicket boundary by Archie Vaughan to finish with figures of 4-34 from 12 overs and a direct hit from backward point by Windle accounting for Ben Jarvis leaving Nantwich on 182-7 with the host side pushing for victory with 6 overs remaining.
Perry threw the ball to Chris Sanders for the closing overs who duly obliged by ending Harry Netwon's resistance for 12 before Jimmy Naylor flattened Scott Wardley's middle stump with the final ball of the 52nd over to set up a grandstand finish. Sanders had the final say cleaning up Mitchell Spencer for 6 with 10 balls of the contest remaining to give Alderley a vital 55-run win as second-placed Didsbury and third-place Hyde both suffered defeats meaning the Hedgehogs now sit 24 points clear at the top with four matches remaining.
In Saturday's Second XI fixture Alderley had a successful trip to Oulton Park registering a 5-wicket victory as their recent good form continued. Winning the toss, stand-in skipper Alan Day elected to bowl first with seamer Ollie Kenyon doing the bulk of the damage with excellent figures of 5-46 from 15 overs for the visitors. Number 7 Roger Thompson's knock of 28 helped to give the hosts' innings a shot in the arm to recover from 77-6 and with skipper Damian Barton's 27 and 29 from Ewan Haigh down the order Oulton Park recovered to post a more respectable 165 before being dismissed in the penultimate over, Liam Yahathugoda and Max Clarke both picking up two wickets for Alderley.
The visitors started brightly in reply as opening pair Liam Yahathugoda and Calum Wilson took the score to 60 before Yahathugoda departed for 24, Wilson completing his half century before being run out for 57 as Alderley moved to 96-3. Tejas Rao hit a quickfire 38 off just 29 balls from number 4 before Christian Smith sealed victory for Alderley hitting an unbeaten 32 from just 20 balls (4 fours and 2 sixes) as the visitors completed their chase in the 25th over.
On Sunday Alderley's Third XI slipped to a 40-run defeat in a high-scoring encounter with Stockport Georgians at Moss Lane. Winning the toss Alderley bowled first but immediately ran into trouble as Georgians opening pair of Saj Hussain (125) and Sajjad Aayub (102) put on an opening stand of 225. Alderley fought back well with the ball to dismiss Georgians remaining batters for single figures as the visitors closed on 263-5 from their 40 overs, Alfie Usher with 2-19 and Calum Wilson's 2-65 the pick of the hosts' attack.
Alderley's young line up made a good fist of the chase led by 93 from number 3 Liam Yahathugoda and 54 from opener Calum Wilson but key spells of 3-33 from Jonah Wall and 3-57 from Ali Mudassar caused sufficient damage to Alderley's middle order that they couldn't recover from, eventually being dismissed for 223 in the 36th over.
Match report by Andrew Windle.