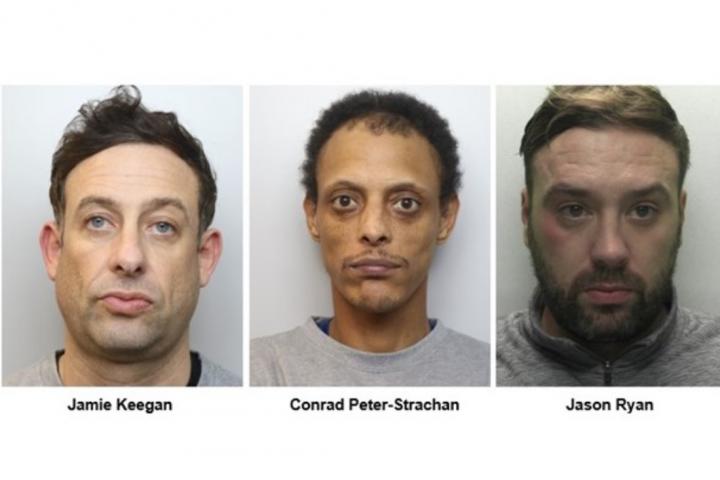 Three men have been jailed for a total of more than 16 years after an aggravated burglary in Wilmslow.
Jamie Keegan, Conrad Peter-Strachan, and Jason Ryan appeared at Chester Crown Court on Monday 31 July after they targeted a property in Primrose Way, Wilmslow, in November 2022.
Keegan 40, of Thirsk Avenue, Sale, and Peter-Strachan, 38, of Herle Drive, Manchester, were both sentenced to seven years and nine months. They both previously pleaded guilty to burglary, handling stolen goods, and robbery.
Meanwhile Ryan, 36, of Stockdale Road, Blackley, was sentenced to 16 months after pleading guilty to burglary, as well as two counts of driving while disqualified and two counts of driving without insurance.
The court heard on Wednesday 16 November, at around 7.25pm, the three men exited a Mini Cooper which had pulled into the driveway of an address in Primrose Way.
They used a sledgehammer to smash the rear patio doors of the property and gain entry, alerting the occupant who ran to her neighbour for help.
The neighbour interrupted the three men, who then initially got back into the Mini and started to drive off.
However, they stopped the vehicle, and two men ran back to the neighbour and forcibly stole his watch.
The offenders made good on their escape in the Mini, also taking a £30 make-up organiser which they had stolen from the property.
Keegan and Peter-Strachan's DNA was found on the sledgehammer which had been left at the scene.
The Mini Cooper was located at 9pm that day in Wilmslow and was found to be a stolen vehicle on cloned registration plates.
Inside the Mini, a phone was discovered, attributed to Keegan, while DNA linked it to both Keegan and Ryan.
After gathering the evidence, officers arrested Keegan on Saturday 4 January, while Peter-Strachan was arrested on Thursday 26 January, both in Manchester.
Ryan attempted to evade officers by fleeing the area. However, his attempts were futile after officers from the force's Serious and Organised Crime Unit found telecoms data which placed him in Cornwall. He was subsequently arrested on Thursday 16 January after officers travelled from Cheshire to detain him.
Following the sentencing, PC Natalie Palin said: "This was a terrifying ordeal for the victim who was at home with her two children when these three men targeted the address, somewhere she should have felt safe.
"While the victim and her children will never be able to forget what happened that night, I do hope the fact the offenders are now behind bars will provide them with some reassurance.
"Cheshire has one of the highest charge rates for burglary in the UK, and we're committed to doing all we can to ensure those responsible are held to justice.
"As this case demonstrates, if you come to Cheshire to commit crime, there really is nowhere you can hide, and we will go to the ends of the country to ensure you are held accountable."