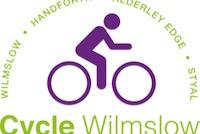 Local community organisation CycleWilmslow is promoting a new type of organised ride.
The first of these free events on Sunday 30th July is being held to encourage adults who own a bike, but rarely ride it, to join a group ride and grow in confidence.
CycleWilmslow, formed in 2009, advocates cycling as a means of transport and as a leisure activity.
Secretary Helen Battilana says "Have you been staring at your bike in the shed and thinking that it might be fun to get back on it? Thinking about it, but not quite having the confidence to do it? Well, we're here to help! We will go at an easy pace, we won't leave anyone behind."
Riders will meet at Lindow Common Car Park on Racecourse Rd in Wilmslow at 10am and will cycle to the Airport Viewing Park where there is a café. Bikes should be in safe roadworthy condition.
Register for the event on the group's website or contact Helen at [email protected] with queries.