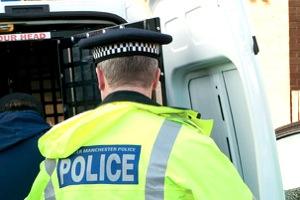 Macclesfield Policing Unit's Serious and Organised Crime Team carried out raids on 16 addresses today (Tuesday, 20th June), as part of their investigation into drug dealing in Congleton.
The raids in Wilmslow, Alderley Edge, Congleton, Holmes Chapel, Macclesfield, Middlewich and Ashton-under-Lyne were part of a long-term investigation aimed at tackling the issue.
Officers arrested 15 men aged between 16 and 39, and a woman aged 58. They seized property ranging from class A and B drugs, cash, two drug presses, a cannabis farm, phones, weapons including a rifle, two cars, one van, three electric bikes, a quad bike and jewellery.
DS Angie Coppock said: "Todays warrants are the culmination of an ongoing investigation into the supply of illegal drugs across the Congleton area.
"This is a complex and protracted investigation into conspiracy to supply Class A and Class B controlled drugs, namely cocaine, MDMA, cannabis and other illicit substances.
"Today saw us initiate our strike phase and make several arrests. I hope that this reassures residents that we do listen to your concerns and have been working tirelessly behind the scenes to gather evidence and tackle the issue."
Update 13.30 Wednesday 21st June.
Three men remain in custody. Twelve men and one woman have been released on conditional bail.