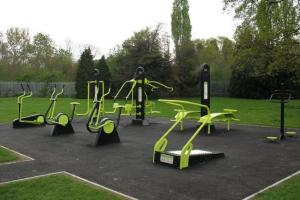 A new outdoor gym is set to be installed as part of the plan to deliver improvements to the village park.
Six pieces of outdoor equipment have been ordered with an estimated delivery day of March 20th.
Councillor Craig Browne said "At this point, I am waiting for confirmation of an installation date from ANSA (Park maintenance) but it is expected that this will take place before the end of April."
Last year it was confirmed that Cheshire East Council has found some additional funds which are being used to deliver improvement to the village park.
A total of £19,611 was made available for Public Open Space improvements, assigned to Alderley Edge park. Of this, approximately £8,000 is being used to purchase the items of outdoor gym equipment, which the Parish Council is supplementing with a contribution of £4,000 to add an extra couple of pieces of equipment.
Councillor Browne added "The addition of outdoor gym equipment is part of the master plan for Alderley Edge park and is being part-funded through Section 106 funds, with match funding of £4000 from Alderley Edge Parish Council.
"I am sure this equipment will make a great and welcome addition to our main village park."