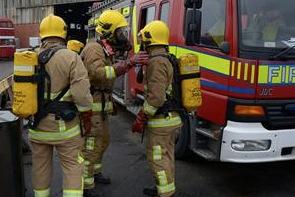 Passengers had to evacuate a train at Wilmslow Station for the second time in a week after another fire broke out on Wednesday, 1st March.
One fire engine from Wilmslow and three fire engines from Greater Manchester were called at 6.49am after smoke was seen to be coming from below a carriage of a train at the station platform. They remained at the scene until 9:30.am.
Crews have used two sets of breathing apparatus, one hose reel jet and a dry powder extinguisher to put out the fire.
A joint agency meeting took place to formulate a continuity plan and a fire investigation officer attended the scene. The cause of the fire is believed to be mechanical.