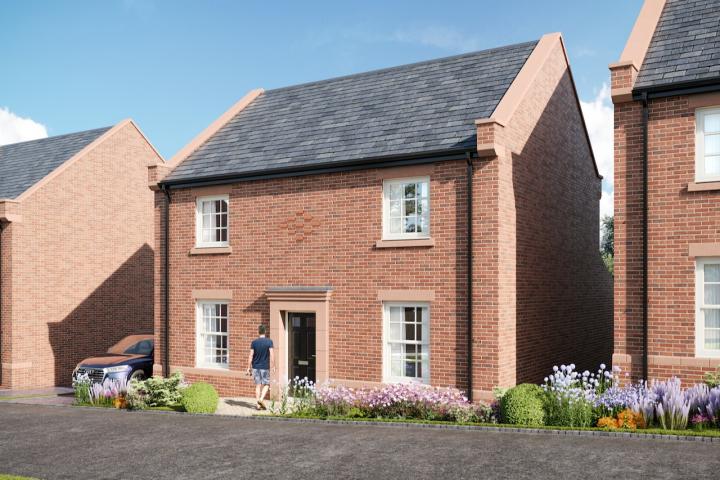 Promotional Feature
House-hunters will soon be able to explore a new show home at a luxurious new development in Nether Alderley in Cheshire.
Jones Homes is set to open the doors to the impressive three-bedroom property at its Alderley Gardens development, in the grounds of Alderley Park, on Thursday (23 February).
Mark Jones, Deputy Chairman at Jones Homes, will give a short speech and cut the ribbon at 1.30pm to officially mark the unveiling of the show home, which has been built in Jones Homes' Downton style.
Invited guests are due to arrive at the development from 1.15pm, where complimentary glasses of bubbly and canapes will be handed out after the ribbon-cutting ceremony.
The show home unveiling will mark the start of the development's launch weekend, which is set to run from Thursday until Sunday (26 February). Visitors will be able to call into the sales office and view the show home between 11am and 5pm from Friday 24 February, and 1.15pm on Thursday (23 February).
An expert panel of mortgage advisors and home-moving specialists will be present at the development over the course of the four days, to offer free advice and explain the benefits of Jones Homes' Agency Assist scheme.
Simon Whalley, Sales Director of Jones Homes North West, said: "We are very much looking forward to opening the doors to this show home at Alderley Gardens. It is a red-letter day at the development and we thought it would be a great opportunity to extend the launch into a weekend-long event for potential purchasers to view the Downton and see the site for themselves.
"This impressive show home will give visitors the first opportunity to see inside a finished property at Alderley Gardens. The house has been expertly dressed by our team of interior design experts and offers a stunning visual demonstration of how life could look inside this home – as well as illustrating the exceptional quality and design that come as standard with a Jones Homes property."
Alderley Gardens, which features a collection of 50 three, four and five-bedroom homes, forms part of Alderley Park, a 400-acre parkland site. Previously home to an imposing country house dating back to the 16th Century, Alderley Park now features a state-of-the-art gymnasium, sports and leisure facilities, a pub, restaurants and coffee shops.
Simon said: "Visitors will not only have the opportunity to explore the show home but will also be able to call on the expert knowledge of independent financial advisors who can share their insight into the mortgage market and the best deals that are currently available.
"Buyers can also chat to our home-moving specialists about the Agency Assist scheme. The initiative allows customers to reserve while they still have a home to sell. Their preferred plot will be held for up to six weeks while we work with three local estate agents to market their current property. The scheme is designed make the whole house buying experience easier and less stressful, with Jones Homes paying the estate agency fees up to £3,000.
"We would encourage anyone thinking about living in this fabulous part of the world to come along to our launch weekend so they can fully appreciate the quality of a Jones Homes property and experience the unique and wonderful setting at Alderley Gardens for themselves."
There's currently a choice of four and five-bedroom homes available to reserve at Alderley Gardens, with prices starting at £819,950.
To find out more about the development, visit jones-homes.co.uk/alderley-gardens.
Image: A computer-generated image of the three-bedroom Downton house style, one of which is being opened as a show home at Jones Homes' Alderley Gardens development in Nether Alderley.