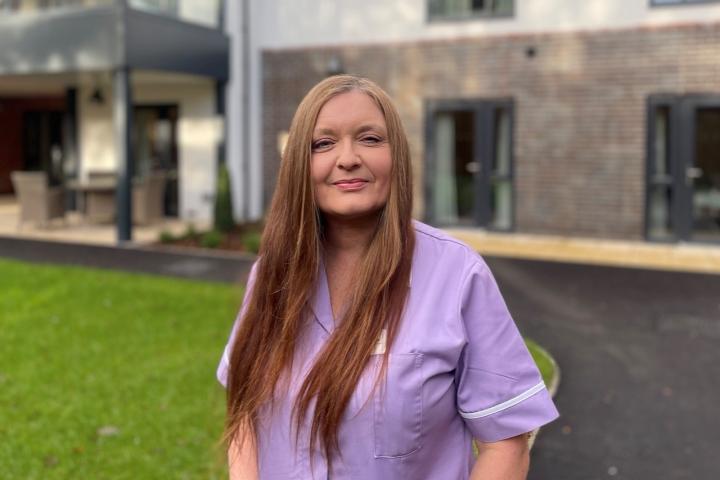 Promotional Feature
Sarah Wild, who lives in Wilmslow, has been appointed by New Care as the wellbeing co-ordinator at Wilmslow Manor Care Centre on Handforth Road.
In her new role, Sarah is responsible for creating a weekly person-centred activity programme for residents at Wilmslow Manor, to include both one-to-one and group sessions. She is also tasked with developing community links and organising enjoyable events with family participation.
Sarah's key objective the for next 12 months is to ensure Wilmslow Manor is very much integrated into the local community and that the care home is recognised for its varied and fulfilling activities programme.
Sarah says: "I was attracted to New Care as I wanted to take advantage of the opportunity to work in a brand new care home setting, allowing me the chance to showcase my skills and abilities. Wilmslow Manor is a beautiful care home with stunning gardens so it is a pleasure to work in such an environment and I am very much committed to ensuring a wellbeing activities plan is in place for each and every resident, appealing to their interests and hobbies.
"I hope to develop my team, not only providing supervision but coaching also, so that together we create a truly community-focused, exciting wellbeing and activities calendar for the residents."
Having worked in care homes previously, Sarah has vast experience. She is also a qualified mental health nurse and has gained a qualification in Namaste Care; a structured programme of sensory activities that aims to improve end-of-life care for people who have advanced dementia by giving them pleasure and helping them to connect with loved ones.
Passionate about care, Sarah adds: "I put my nursing career on hold to raise a family and found it difficult to find the right balance to return to nursing, but care has always been my passion, so I navigated a way back to the sector.
"I am delighted to have joined New Care and have made an immediate start at Wilmslow Manor with a busy events schedule planned for the next few months, several trips out with residents to Quarry Bank Mill and the Whitworth Art Gallery, plus an array of daily activities within the home."
Chris McGoff, CEO at New Care concludes: "It is great to welcome Sarah to the team. Her past experience and local knowledge of Wilmslow and the surrounding areas will no doubt ensure she excels as wellbeing co-ordinator at Wilmslow Manor."
Away from work, Sarah is a keen wild swimmer and mountain climber. She loves festivals and art galleries and enjoys spending time with family and friends.
Wilmslow Manor is a stunning state-of-the-art 63 bed purpose-built care facility offering outstanding residential, dementia, 24 hour nursing and respite care services. It features fully furnished bedrooms, each with a private en suite wet room, plus a selection of communal lounges and dining rooms. It also has a nail bar, hairdresser, landscaped gardens and outdoor terraces to the first floor.
For further information regarding Wilmslow Manor, or to book an appointment to view the facility, please email [email protected] or call 01625 920500.
Part of the McGoff Group, New Care is one of the UK's leading care home providers. Its portfolio of purpose-built 'new generation' care centres is fast gaining an enviable reputation for outstanding care that is second to none. For further information, please visit www.newcarehomes.com.