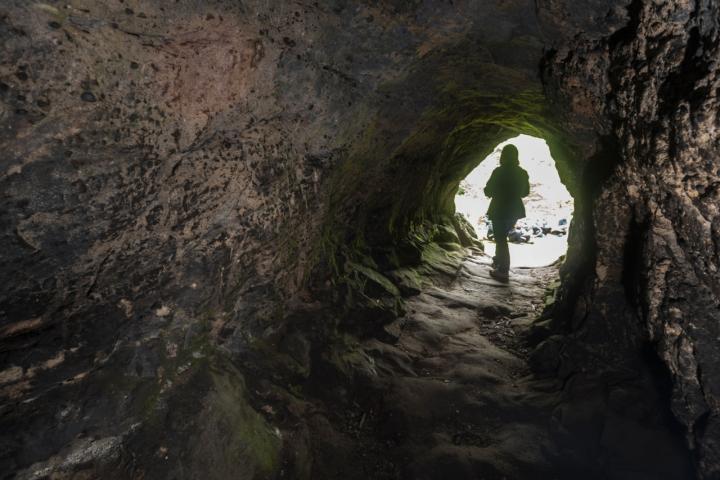 A new app has been created to bring the Legend of Alderley Edge to life for visitors this Christmas season.
Launched on 21st December, the Invisible Worlds app has been designed to enhance the visitor experience at the beauty spot, which is managed by the National Trust, as well as allow people around the world to remotely explore the magic of Alderley Edge.
Through their smartphones or tablets, visitors and users will be able to explore Alderley Edge with augmented reality wizards, knights, and white horses appearing throughout the landscape, as well as soundscapes specially commissioned to provide an atmospheric background. Additionally, users of the app can also explore the mines underneath Alderley Edge from their own homes.
The app has been produced for the Invisible Worlds research project, which is led by the University of Birmingham in collaboration with the Institute of Historical Research, School of Advanced Study, University of London, and the University of Lincoln.
Dr Victoria Flood, the principal investigator on the project, said: "The Legend of Alderley Edge – of the wizard, in search of a single horse, who watches over an army of subterranean sleepers – is of great significance for our understanding of the legendary history of Cheshire. We are excited to bring this new experience of the Legend to life."
However, the app is not just about wizards and horses. Users will be prompted to share their responses to the Legend and the versions of it that they are familiar with. The research team will use this information to write a crowd-curated history of the Legend, tracing its contemporary life.
Dr Flood continues: "We want to study the history and diversity of storytelling reflected in the data we collect – from versions of the Legend passed down through families, to the responses of new visitors to the site both in person and virtually. We will be able to collate all this information to see how the local and international community engage with legendary placemaking."
Rachel Thomas, National Trust general manager for the Cheshire Countryside, said: "The app is launching just in time for people to enjoy it when they are going out for their Christmas, Boxing Day and New Year walks at Alderley Edge. We hope that it will give people the chance to see the Edge in a new way and add some extra magic to their visits.
"We're also really excited that users of the app will be able to experience the stories of Alderley Edge digitally, even if they're unable to visit us in person."
The Invisible Worlds app will be available on iOS and Android from 21st December.