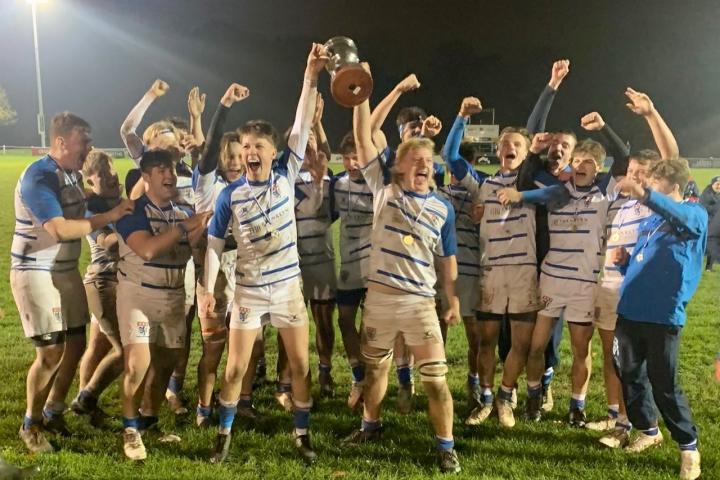 Promotional Feature
King's First XV rugby squad have lifted the Cheshire U18 Cup in what they hope is a prelude to national glory.
The gutsy Macclesfield side withstood an early onslaught from Wirral Grammar to win the County Cup for the first time since its inception 22 years ago.
Having been on the back foot for the first 20 minutes, their sublime skill sets began to grace a packed out Wilmslow Rugby Club under moody lights. In the end, King's won by a comfortable 26 - 3 to make the most taxing of challenges look easier than the score-line ultimately suggested.
King's Head of Rugby and First XV coach Giles Hetherington said: "They threw everything bar the kitchen sink at us in the first quarter, but this side is resilient, tough and always ready to stand toe to toe. It was the individual skills of some superb ball players that made the difference."
Scrum half Harrison Milner opened King's account with an opportunist short-range snipe peeling off the base of the scrum to pounce under the noses of the opposition. Next on the score sheet was lightning wingman Fred Riordan darting over after a fluent 15-man interchange at breakneck speed.
Then in a move taken straight from coach Rick Jones' training paddock drills, hooker Ted Broadley finished off a superb driving and rolling maul relentlessly pushing back and aside the forlorn Merseysiders. The final nail was delivered courtesy of fly-half Fin Usher's tactical acumen with a sublime chip and chase to leave Wirral chasing shadows.
It has been a golden year for King's Rugby with the First Team taking on Finborough School from Suffolk in the Quarter Final of the prestigious National Schools' Cup. They go in to the match on 9 December as favourites, having already knocked out two-time champions, Bromsgrove School.
Talisman and captain Haydn Keogh, who is pictured holding the trophy on the right alongside vice-captain Harrison Milner, has led by example and star player, centre Toby Wilson has been invited to train with the England under-18 squad.
This year King's has won 11 of their 12 fixtures on the tough Northern circuit with the talented U15 side also in the National Cup Quarter Final, while the irrepressible U13s are also still undefeated.
Giles added: "It's no idol boast to say this is the best year in the 92 year history of King's Rugby and we hope this is only building on that wonderful legacy."
Tags: