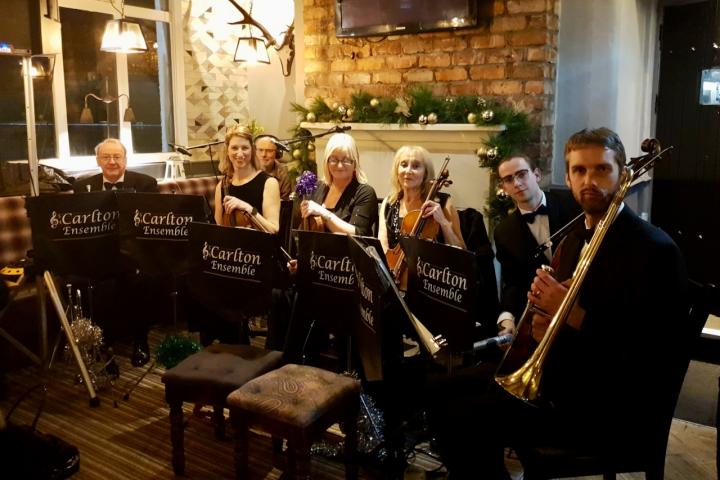 Alderley Edge's 42nd Annual Charity Carol Nite will take place on December 18th and be hosted by The Merlin hosts for the second time.
The Charity Carols started by chance in 1981 at the former Number 15 Wine Bar with a carol singalong led by violist Fay Wertheimer and a couple of pals. Since then, the popular event has raised £38,000 for local charities nominated by those who attend, including Shelter, AIDS, Royal Life Boats, East Cheshire Hospice, NSPCC, Diabetes UK, the Heart Foundation and The Christie.
Fay said "In 1981 this was a fun venture with a serious underlying message .I am Jewish. Jesus was too . The carols are Christian.As an interdenominational venture. using Christmas carols as the vehicle for common good to raise charity money, it worked. Looking back, my own family provided the music in the 80's and '90s and today's musicians still donate their services. After 42 years the stalwarts still supporting the evening are so very,very much appreciated."
Following the venue's demise in 2008, the Charity Carols Nite has moved around Alderley village to the Wizard, the Drum & Monkey,The Botanist, The Yard, the De Trafford Arms Hotel and now returns to The Merlin .
The evening kicks-off from 6.30pm for a mulled wine welcome, followed by a two course meal, raffle and live music from 9pm. Tickets are £32, including a £12 charity donation.
Those wishing to attend for the singing are welcome to go along around 8.40pm and are requested to donate £10.00 at the bar.
To book call The Merlin on 01625599959. The deposit is £16 plus £16 in cash if possible on the night of December 18th.
For more information call Fay 07989501520 or email [email protected].