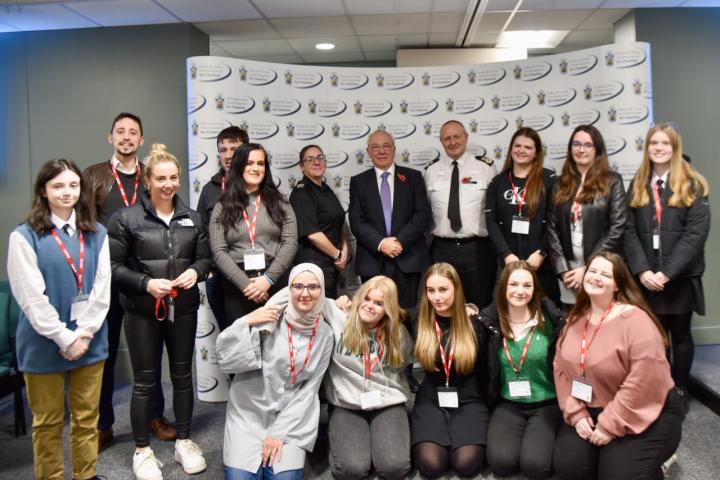 The Cheshire Youth Commission have produced a report detailing how Cheshire Constabulary and partners can develop their engagement with under 25s.
The report was presented at a conference attended by the Police and Crime Commissioner for Cheshire, John Dwyer, and Chief Constable Mark Roberts.
The Cheshire Youth Commission is made up of volunteers, aged 14-25, created to support, challenge, and inform the work of the Police and Crime for Cheshire and Cheshire Constabulary.
Over the past year, the Commission have carried out a consultation which received 2,000+ responses from young people across the county. The responses highlight opinions, thoughts, and feelings on policing and how Cheshire Constabulary, the Police and Crime Commissioner and relevant partners can improve their relationship with young people.
Following the consultation period, the Youth Commission took their findings and developed them into four key priority areas which were hate crimes, safer communities, violence and abuse and relationships with the police which were presented at the Big Conversation Conference, on 3rd November 2022.
Police and Crime Commissioner for Cheshire, John Dwyer, said: "Young people are the future of our communities and the hard work of the Youth Commission over the past year has been reflected in their presentation this evening.
"Under 25s represent almost a quarter of a population, so it is only right that they have a voice and that they are listened to. I would like to thank the Commission for delivering their findings and welcome their recommendations, they will be reflected upon and actioned wherever possible."
Whilst discussing the priority of Hate Crimes, the Youth Commission reported that young people continue to receive explicit content online and feel uncomfortable and unsafe on social media. The report recommended for the Constabulary to promote the alternative routes of reporting crime rather than calling 101 or 999, including via the Cheshire Police website or anonymously via CrimeStoppers.
The recommendation to the Police and Crime Commissioner regarding the Violence and Abuse priority was to raise awareness of the impact of carrying a weapon for protection. A second suggestion was to work alongside the Youth Commission and other partners on a campaign promoting impact and consequences of violence and drug crime.
Chief Constable Mark Roberts said: "Listening to the views and concerns of young people is a key part of our engagement strategy and has a vital role to play in helping us keep Cheshire safe.
"I was delighted to attend this conference and see the fantastic work the youth commission have put in to producing this report. We will now review the findings and will ensure that they feed into our aim of delivering even safer communities for the whole of Cheshire."
John Dwyer added: "I am looking forward to working with the Chief Constable and other key partners to ensure the recommendations raised at the conference are addressed and that we continue to support the work of the Youth Commission and young people across Cheshire."
To find out more about the Youth Commission, visit: www.cheshire-pcc.gov.uk/get-involved/youth-commission/