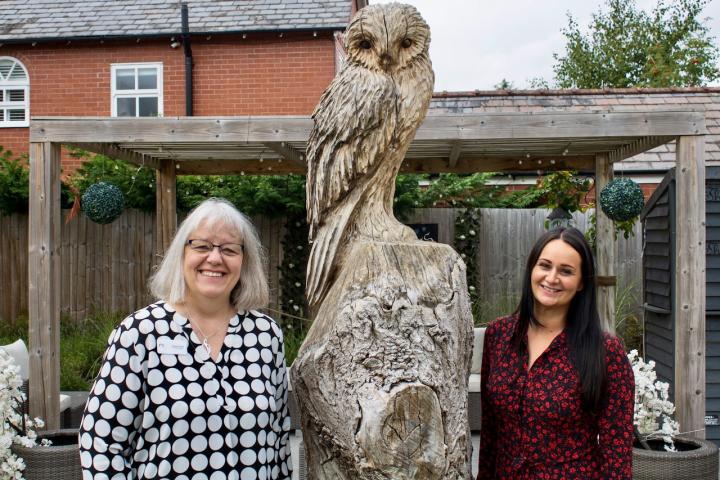 Promotional Feature
Paula Clark and Sophie Kay have been appointed by New Care as registered manager and deputy manager respectively at Wilmslow Manor Care Centre, the company's latest care facility on Handforth Road in Wilmslow.
Paula, who has worked in older people care settings for over 38 years providing domiciliary, residential, nursing and dementia care, has been a registered manager of care homes across the North West, and more recently in the Isle of Man, since 2009.
Sophie has a diverse background in nursing across all sectors, including A&E, primary care, plastic and cosmetic surgery as well as private general medicine. She has vast experience with quality assurance, patient experience and safeguarding, and leaves her last role working within quality and the practice nurse lead for Cheshire to join New Care.
Bringing with her a wealth of experience, Paula hopes to deliver a high quality, person- centred care service to the residents of Wilmslow Manor, allowing them the opportunity to spend time in the beautiful facility fulfilled and happy.
Paula's key responsibilities will be to bring together a new team, supportive of her, each other, the residents and their relatives, and ensure they deliver a high standard of care, maintaining the safety and wellbeing of residents. Paula is keen to establish open and honest relationships with the local authority and CQC, and develop good working practices with stakeholders.
Her ultimate aim is for all residents to have the best possible experience whilst living at Wilmslow Manor, and that loved ones also enjoy their time visiting the facility.
Sophie will strive to establish an organised, structured and friendly team at Wilmslow Manor, who will work collaboratively to ensure residents receive care that is second to none. She will lead on the clinical care and management of the nurses and care staff, supporting Paula on every level.
Paula says: "I was attracted to New Care due to its incredible reputation, both towards the outstanding care the residents receive and unrivalled support of staff, which after the pandemic was very important to me. I also know several members of the New Care team, who I have worked with in the past, and their glowing reports and positive recommendations really appealed.
"The care facilities themselves are beautiful inside and out. The attention to detail of the design combined with the installation of modern technology and equipment is amazing; they are truly superb care homes."
Sophie adds: "New Care is unique in that the company builds care facilities that are beautiful settings, both externally and internally, creating stunning care homes that residents want to live in. I love the fact that New Care has not used agency staff for over two years, which reflects on the quality of care provided and exceptional staff retention within the company.
"Working alongside Paula, I want Wilmslow Manor to forge an excellent reputation throughout Wilmslow and the surrounding villages, making it 'the' place to be for the elderly for residential, nursing or dementia care."
In addition to her hands on, working experience, Paula has Leadership and Management in Adult Social Care qualifications, whilst Sophie has a Diploma in Nursing and NMC registration, is trained in trauma, resus and immunisations, and has an NVQ Level 3 in safeguarding.
Chris McGoff, CEO at New Care, adds: "I am delighted to welcome both Paula and Sophie to the New Care team. I am confident they will utilise their extensive knowledge and expertise to establish Wilmslow Manor as the care home of choice in Wilmslow and the surrounding areas."
Away from work Paula, who lives in Wigan, enjoys spending time with her husband, walking their two dogs and travelling, particularly city breaks in Europe experiencing new foods and cultures. She loves cooking Sunday lunch for her children and their families, catching up on what is going on in their lives.
Sophie lives in Chelford. She has a six year daughter and eight year old step daughter, so family time is incredibly important to her. She likes to walk her dog, run, goes to the gym regularly and loves to jet away with her husband on city breaks.
Opening later this month, Wilmslow Manor is a new, expertly designed, purpose-built 63 bedroom care home. It features fully furnished bedrooms, each with a private en suite wet room, plus a selection of communal lounges and dining rooms. It also has a nail bar, hairdresser, landscaped gardens and outdoor terraces to the first floor.
The care home provides outstanding residential and dementia care services. For further information regarding Wilmslow Manor, or to book an appointment to view the facility, please email [email protected]
Part of the McGoff Group, New Care is one of the UK's leading care home providers. Its portfolio of purpose-built 'new generation' care centres is fast gaining an enviable reputation for outstanding care that is second to none. For further information, please visit www.newcarehomes.com.