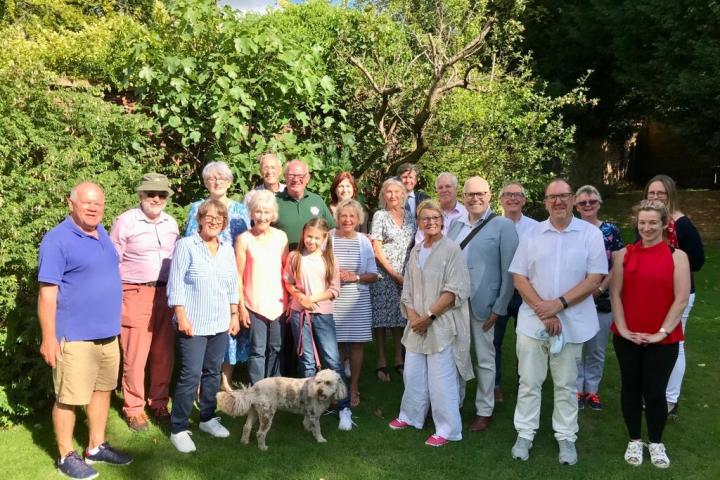 Judges visited the village on Wednesday, 3rd August, to review the Alderley Edge In Bloom 2022 'North West In Bloom' entry telling the volunteers they were "very impressed by the sense of community we have here in Alderley Edge".
Bernard Pendleton, Head Judge of North West Britain in Bloom, and his colleague Bernard Sheridan were given a short presentation in the communal area at the back of St Philips and St James Church before setting off on a tour of the village which started with visiting the group's Ivygate project, at the top of Brook Lane, before having afternoon tea at the Chorley Hall Lane allotments.
Leslie Cox, said "The judges were so impressed with the community there that they are going to put the allotment in for an individual award and have encouraged the committee to participate in the neighbourhood scheme next year."
They were then taken to Peter Woollam's garden on Hough Lane and on to Lydiatt Lane to view the improvements made there since the RHS judges visited last year before heading through the village centre stopping off to see the woodland near Waitrose and the changes made to enhance the station - before heading up to Castle Rock finishing off at the Edge Hotel garden for a Cheshire cream tea.
Councillor Craig Browne said "I would like to thank the two judges for coming to Alderley Edge and for giving up their time to inspect the progress we have made as a community over the course of the last twelve months; I understand that their inspection was particularly thorough, but am delighted that they considered Chorley Hall Lane allotments to be worthy of a separate award.
"More importantly, however, I would like to thank Alderley Edge in Bloom and the team of resident volunteers who work tirelessly throughout the year on a range of activities including weeding, planting and litter picking. Their efforts in helping to make Alderley Edge look and feel a nicer place to live, work or visit certainly don't go unnoticed and on behalf of our village I would like to say a huge thank you to them. A further gold award from North West in Bloom would be a fitting tribute to their work."
This is the first for Alderley Edge In Bloom since 2019 when they were awarded their second gold medal, to go with the once they achieve the previous year.
The 2022 awards ceremony will be held mid-October.