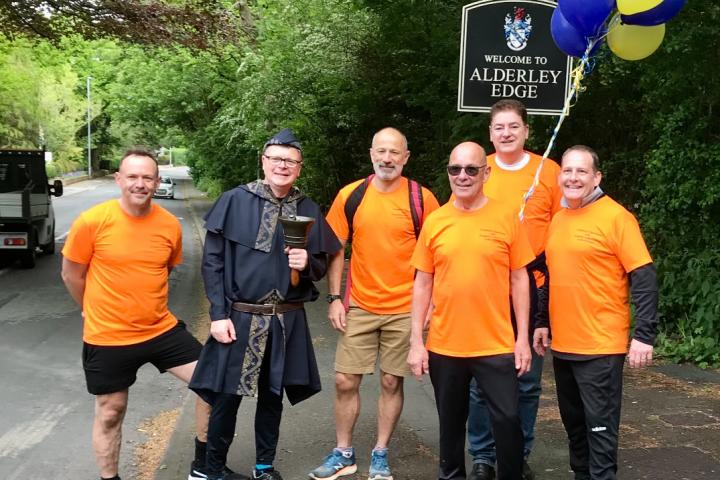 Councillor Craig Browne took part in a sponsored walk last month to raise money for a youth mental health charity and the humanitarian relief effort in Ukraine.
On Friday 13th May, Congleton Councillor & Town Crier, Cllr Rob Moreton and his team set off from Congleton to Manchester and Councillor Browne joined him when he reached Alderley Edge.
After a brief pit stop for a coffee in the village they continued on towards Manchester carrying collection buckets, as well as blue and yellow balloons.
After arriving in Wilmslow, they walked along Grove Street where they were delighted to be stopped by two Ukrainian refugees who introduced themselves and thanked them for what they were doing.
Councillor Craig Browne said "The final three miles of our journey, from Parrswood to Manchester City Centre were hard going; our feet and muscles started to ache as we knew we were getting closer, but still feeling like we were a long way from the finishing line.
"We finally arrived in St Peter's Square, where we crossed the finishing line to the tune of the Town Crier's Bell and rapturous applause from locals as well as our support team. After the obligatory photographs to prove we had actually done it, we retired to a local hostelry for a well-earned rest and some equally well-earned liquid refreshment."
Their efforts raised £2,966 in advance sponsorship for the youth mental health charity, Visyon (www.visyon.org.uk) and a further £356 in donations received on the day towards the British Red Cross Ukraine Appeal.
Councillor Craig Browne said "On behalf of Rob and myself can I say a huge thank you to everyone who contributed and supported us."