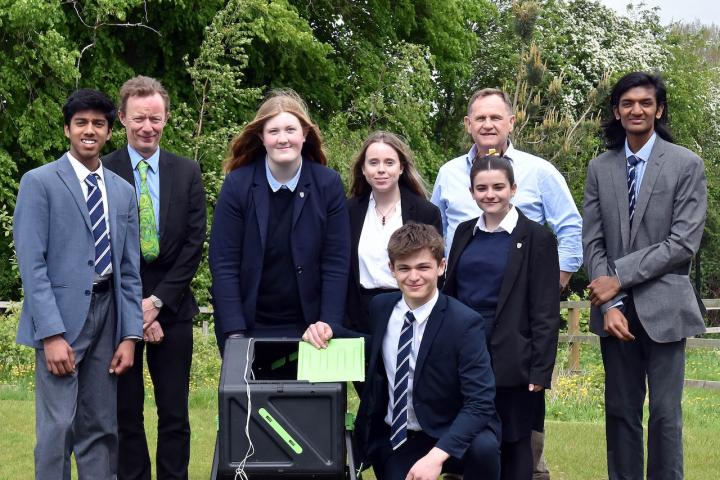 Promotional Feature
A team of King's School eco engineers have been nominated for a top national award in this year's Education Engineering Scheme competition thanks to a little help from one of Macclesfield's world-class companies.
From over 350 entrants, the King's School team of six Year 12 Physics students are down to the last 20 in the Teamwork Award, after designing a system to convert the natural heat from compost into an energy source to promote seed germination.
Working under the guidance of King's Head of Physics Dr Stephen Hartnett and John Blackwell, the Engineering Director of Opus Technical Ltd, the team produced a full design and prototype to impress the regional panel of judges.
Over a six-month period working in lunchtime and after school sessions, the team had to determine the ideal blend of compost material, type of composter, and methods to convert and control the resulting energy before managing the heat transfer to the horticultural system.
John Blackwell, who designs bespoke equipment for the global chemical process industry and has to develop original solutions on a daily basis, said: "I love working with bright, enthusiastic students and this year they were better than ever."
"Perhaps it is because of COVID and the return to a normal school environment, but this year more than ever they wanted to work together, pool ideas, consider each others' strengths and weaknesses and work hard to develop a serious solution."
John, who has been helping the King's Science Department every year for the last decade, added: "Their idea might be small in scale, but it could have massive benefits on a large scale."
He concluded: "The first law of thermodynamics, states that you cannot create or destroy energy but that you can only convert it and it was wonderful to see them apply that law on a practical scale."
Student Owen Branthwaite, who wants to read Mathematics at university, said: "We learned so much about the practical application of scientific principles, from the perfect blend of compost to methods to transfer and use the energy."
Holly McLellan, who wants to read Medicine said: "It was wonderful to see ideas we have learned in text books come to life as our prototype began to take shape."
Vaseegaran Vasantharajan, who wants to read Engineering at university, added: "It is a privilege to work with Mr Blackwell. Our teachers are fantastic at bringing the subject to life but Mr Blackwell comes from a commercial background where you must make your ideas work and there is a different emphasis."
Milly Robertson, who wants to do an industrial placement in robotics engineering, concluded: "I think we all appreciated working on a scheme that has huge relevance for our generation. All of us want to do all we can to create more efficient energy."
Dr Stephen Hartnett said: "The national award will be announced in the summer and we would like to think we will be among the main contenders. It is a great pleasure to share teaching duties with John Blackwell who brings not only his commercial expertise but also immense enthusiasm to the role."
Pictured by their mini composter with Dr Hartnett and John Blackwell are from left to right: Vaseegaran Vasantharajan, Milly Robertson, Charlotte Parker, Holly McLellan, Ananiel Antony with Owen Branthwaite kneeling.
Tags: