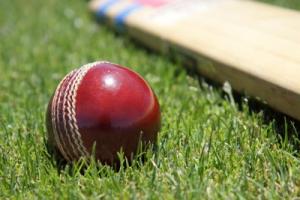 Alderley Edge First XI suffered a two wicket defeat to reigning champions Nantwich in a nail-biter at Moss Lane on Saturday in the host's opening Cheshire County Premier League fixture of the season.
Winning the toss the visitors asked Alderley to bat first and had the home side in dire straits at 92-5 with seamers Jimmy Warrington (1-12 off 11 overs) and Phil Stockton (2-32 off 8) doing the damage. Alderley's number 4 George Bell put up stout resistance to hold the innings together striking 83 from 106 balls and finding an ally in number 10 Dan Fesmer the pair added 45 for the 9th wicket to steer the hosts towards a competitive total. Fesmer finished unbeaten on 27 from just 32 balls as Alderley were bowled out in the 50th over posting 192 but crucially giving the visitors an extra 5 overs in the second innings for their chase. Ollie Griffiths finished the pick of the Nantwich attack taking 4-52 from just short of 17 overs of spin.
At 89-1 Nantwich's top order looked to be laying the platform for a comfortable victory but the combination of tight seam bowling from Ollie Kenyon, taking 2-24 off 15 overs, and a devastating spell of 6-54 from Alan Day pulled the hosts right back into contention beginning with the removal of Doyle for 48 which sparked a slide to 117-7. Despite Alderley's fightback number 5 Spencer Byatt weathered the storm for Nantwich resisting for 78 balls to notch 55 not out and take the hosts to their target for the loss of 8 wickets in the 58th over after a see-saw contest which saw Alderley take 9 points to Nantwich's 25.
Alderley Second XI's opening fixture away at Didsbury proved to be a quick afternoon's work for the hosts who bowled out the visitors in 36 overs with just 90 on the board, skipper Jonny Usher top scoring for Alderley with 15. Didsbury made no mistake with the chase which they completed in just 16 overs for the loss of 2 wickets, both taken by seamer Ben Chapman.
On Sunday Alderley's Third XI were in T20 action against Hyde at Werneth Low, winning a tense encounter by 4 runs. A hundred run opening stand from father and son duo Dil (77) and Liam Yahathugoda (33) was the highlight of Alderley's innings as the visitors posted 157-4 from their 20 overs. Hyde stayed in the hunt til the end with regular partnerships helping them stay in touch with the asking rate but Alderley saw things out well in the close encounter to restrict Hyde to 153-7, Alfie Usher and Stan Price both taking 2-17 in sealing victory.
Match report by Andrew Windle.