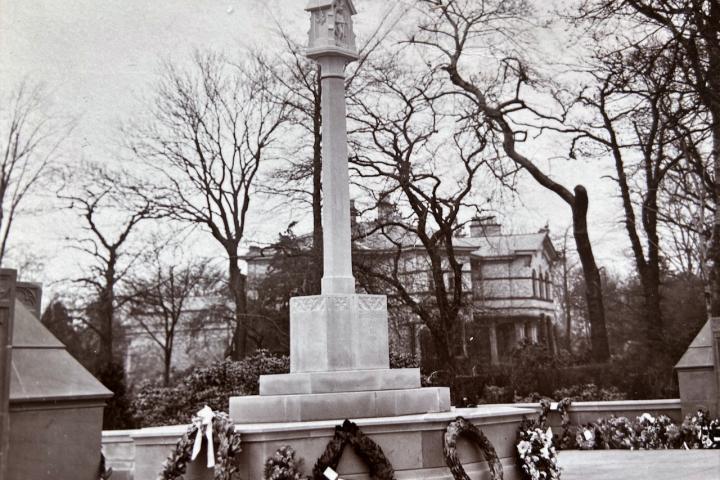 It is exactly one hundred years on April 29th that Alderley Edge War Memorial was unveiled by Colonel Walter Bromley-Davenport, the Lord Lieutenant of Cheshire.
The village came to a standstill. The shops closed for two hours and the usual Saturday cricket and football matches were cancelled. Ex-service men and women marched down London Road accompanied by the Alderley Edge Prize Band.
There was a service very similar to today's Remembrance Day services: three hymns (led by the combined choirs of St Philip's and the Methodist Church), prayers led by the Vicar and the Superintendent of the Methodist Church, an address by the Revd W Stewart, who had been Superintendent at the Methodist Church during the war, the unveiling of the memorial, the laying of wreaths and the sounding of the Last Post and Reveille.
It took three years to plan, commission and erect the memorial. The process began with a public meeting only three months after Armistice Day. The committee set up to bring this about considered two other sites before the present location on land gifted to the Urban District Council by St Philip's Church was settled.
The architect was Hubert Worthington, a distinguished local architect who had served in the war himself and whose brother Claude was among those commemorated. The contractors were the local builders, Masseys.
The central feature is not a cross but a column surmounted by a lantern with a cross on the back and on the front a carving of St Michael carrying the scales of justice and the sword of judgment. St Michael as the leader of the Hosts of Heaven represents the triumph of good over evil.
The four bronze plaques in a semicircle around the memorial contain the names of 72 men who died in the Great War. They are listed alphabetically, with no distinction between officers and other ranks. Two further plaques were added after the Second World War with the names of 24 men who died in that conflict. A paving stone in front of the memorial commemorates Emily Hutton who was the commandant of the Brookdale Military Hospital, which was on the site of Alderley Edge School for Girls.
There will be a short ceremony in the churchyard at 2.30 on Friday 29 April at which the ashes of the Remembrance Crosses laid last year will be scattered and prayers said by the Revd Robin Pye. Limited refreshments will be provided afterwards. Everyone welcome.
Further commemorations will take place on Remembrance Day in 13th November 2022.
Guest post - Michael Scaife, local historian.
Photo: Andrew Smith AHG, shared a lovely photo of the memorial from his postcard collection, which is rarely seen. It looks very new and Brookdale next door is clearly visible, (where the military hospital was) before being Mount Carmel School and then AESG.