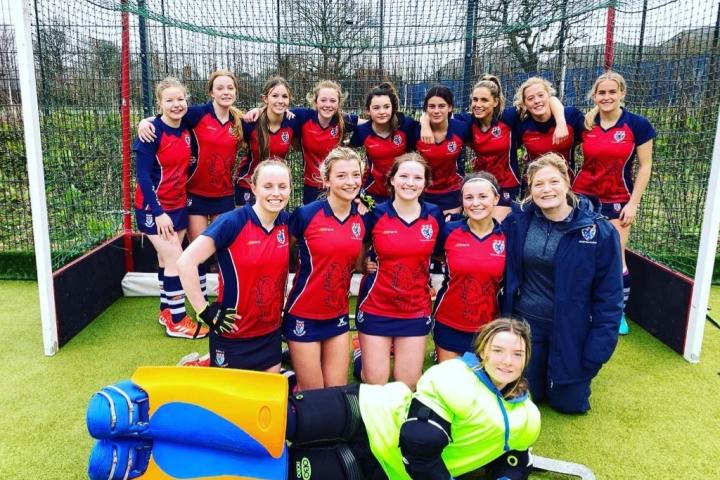 Promotional Feature
The King's School Hockey Girls' First XI capped off a season in which they scored over 100 goals by winning the Cheshire County Championships.
Having won their preliminary round robin matches to qualify, the final was contested as another round robin with King's convincingly beating The Grange 5-0 and Birkenhead 7-0.
Coach Sarah Hopkin, said: "We played some exceptional, fluid, passing hockey which characterised what this team is really all about. The hockey played by King's was of an extremely high-quality and I have to say we looked like a National League side."
All bar two players on this First XI play alongside Sarah Hopkin for Alderley Edge Hockey Club, where Sarah is also the assistant coach.
Co-captains Lottie Dennett and Izzy Moores, as well as Honey Dickinson, Scarlett Brough, Sophie Fletcher and Molly Bridgewater are all National League Players.
Lottie and Izzy have been nominated for England trials this year, while Scarlett, Honey, Sophie, Minnie Jansen and Georgia Wilman have all previously been involved in the England Hockey Performance Centre Pathway.
Sarah commented: "What has been fantastic about King's Hockey this year is being able to field a Girls' First and Second XI for the first time since I joined King's in 2013. This shows tremendous strength in-depth and that we truly advocate sport for all."
"The Hockey squads have been great to work with and the relationship I have with the players is amazing. We have certainly made lots of memories along the way and I will be incredibly sad for the season to end but even more sad to say goodbye to the Year 13s."