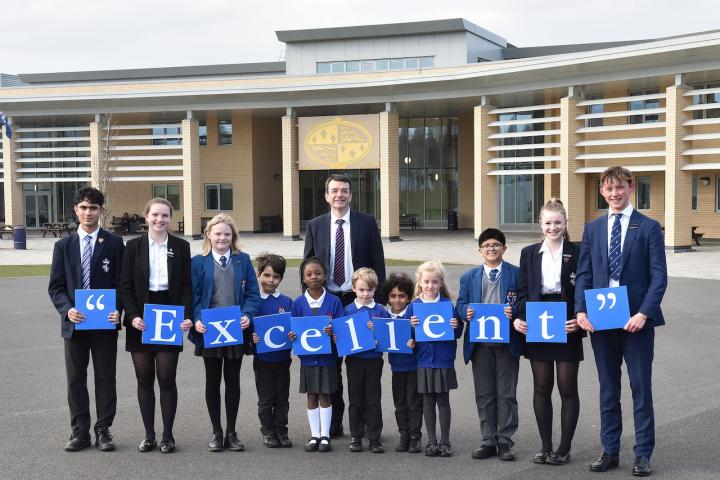 Promotional Feature
The Independent Schools' Inspectorate has told the King's School to carry on doing its excellent work.
Across all areas of school life, King's was deemed to be excelling in meeting today's pupils' needs. The inspection report rated the school as 'excellent', the highest possible grade, in all areas and rated extremely high levels of pupil and parent satisfaction.
It highlighted the pupils' strong academic progress, broad based personal development and sensitive moral compass among the many strengths of a King's education. From the Early Years Foundation stage to the Sixth Form, King's was reported to be a supportive, respectful and outward-looking community offering a wealth of opportunities.
Head of Foundation Jason Slack has welcomed the report, the first since he took control in September 2020. Jason said: "The report represents a very positive and complimentary review that rightly celebrates the School successfully meeting its aims of encouraging pupils to aspire, work hard and achieve and fostering a friendly, polite and caring community.
The key findings on educational quality, which was reported as 'excellent', were:
"Pupils have extremely positive attitudes to learning and achieve highly in both academic and other areas."
"Pupils have excellent communication skills; they are highly articulate and confident speakers and listen and respond maturely."
"Pupils develop excellent knowledge, skills and understanding across the curriculum and their ICT skills are strong."
The key findings on pupils' personal development, which were also reported as 'excellent', the top possible rating, were:
"Pupils make an excellent contribution to the school community, through fulfilling roles of responsibility, and to the wider community through charitable volunteering and involvement."
"Pupils' social development and collaborative working skills are excellent, and relationships between pupils are warm and considerate."
"Throughout the school, pupils demonstrate a high level of self-understanding, self-confidence, self-discipline and resilience."
"Pupils' moral understanding is excellent, and they show an empathetic understanding of and respect for others."
From entry at age three in the Pre-school up to 18 in the Sixth Form, where the vast majority of pupils go on to university, the inspectors found the pupils made excellent progress. "Pupils are aided in their learning by well-planned teaching, which encompasses a variety of techniques and is tailored to the needs of the pupils."
King's effective response to the COVID lockdowns was particularly praised: "Pupils felt they made very good progress during the recent COVID-19 restrictions due to the excellence of the schools' provision for remote learning."
The wealth of intellectual, creative and sporting challenges King's provides recurred time and again through the detailed 14-page report with school's clubs and societies, musical and theatrical productions and extensive sporting opportunities each praised.
So too was King's participation in the Duke of Edinburgh Award Scheme, in which nearly half the pupils participate, and its forerunner for younger pupils' 'King's Compass' activities programme, which introduces boys and girls to the value of service and facing challenges. Older pupils also benefitted from the King's Extended Project Qualification with around half of the Sixth Form taking up the challenge of independent specialist study with three-quarters attaining the top mark.
Above all, King's was found to be a happy place where all were welcomed. "Pupils have an excellent understanding of cultural diversity and awareness of individual differences. They treat one another with kindness and consideration within a community that is calm, convivial and inclusive."
The inspectors' single recommendation was to "ensure pupils develop a deeper spiritual understanding and appreciation of the non-material aspects of life. Jason Slack added: "There are many positive judgements and just one recommendation is made concerning spirituality and the pupils' appreciation of the non-material aspects of life. We will now review our current provision and implement measures to improve this aspect."
"The School is in a very strong position moving forward and this report represents an achievement of which we can all be proud."
Photo – Head, Mr Slack, and pupils from across King's year groups celebrate the success.
Tags: