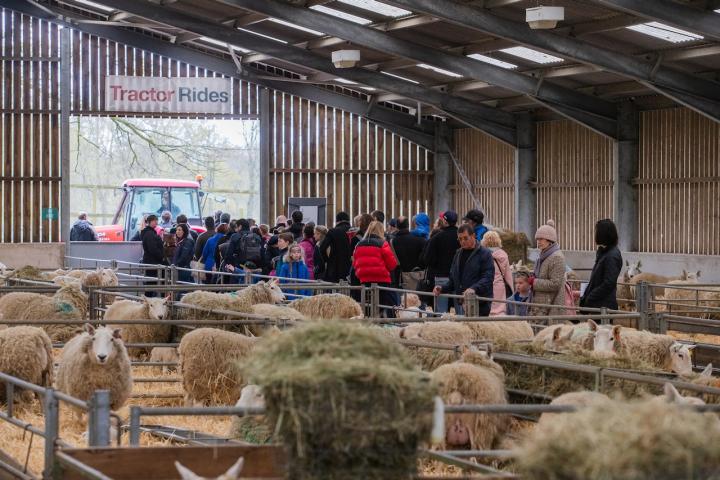 Promotional Feature
Two days of family farm-themed fun, headlined by Mr. Bloom Bruntwood SciTech's Alderley Park, where world leading science, innovation and
stylish living come together, has today announced the return of Farm Weekend (9 - 10 April 2022), a weekend of family friendly activities, performances, markets and local food and drink. From tractor rides to cuddling lambs, Easter-themed crafts to artisan markets, there will be something for everyone at the two-day event.
Headlining the programme is everyone's favourite gardener Mr. Bloom, who will perform four shows over the weekend. Led by his trademark humour and musical talents, fans can expect an interactive and energetic set from the CBeebies favourite.
Home to a working farm, attendees will have the chance to experience the magic of Spring at Alderley Park. From lamb cuddling to tractor rides and interactive animal displays, there will also be opportunities to get crafty with a large range of workshops including wooden egg decorating, bunny ear crafting and much more. Those looking for adventure will be invited to archery sessions, obstacle courses with Everybody Leisure, and encouraged to explore the scenic woodland paths at Alderley Park. Farm animal themed face painting will also be on offer.
With more than 400 acres of green area to explore, and a wide range of locally sourced food and drink available, Alderley Park Farm Weekend is suitable for all ages. Whether you're bringing your family or friends, it promises to be a wholesome and inspiring day filled with nature and enjoyment.
Sam Darby, Head of Development at Bruntwood SciTech said: "We are delighted that Farm Weekend is returning to Alderley Park. It's the perfect opportunity to bring our customers, residents, and the wider Cheshire community together to enjoy the vast parkland and amenities the Park has to offer. With the amount of exciting activities programmed over the two days, it's set to be a weekend to remember."
Alderley Park is a world leading life science and tech campus home to over 250 companies and delivered by Bruntwood SciTech, a joint venture between property company Bruntwood and Legal & General. It offers over 1m sq ft of lab and office space including Glasshouse, a 150,000 sq ft development providing a range of workspace for forward-thinking, innovative tech businesses including leading global tech corporates such as SAP.
Farm Weekend tickets are £6 per person for a 3 hour session (children under three are free) and all activities are included.
For further information about Alderley Park's Farm Weekend and to book tickets, visit: www.alderleypark.co.uk/farmweekend
Tags: