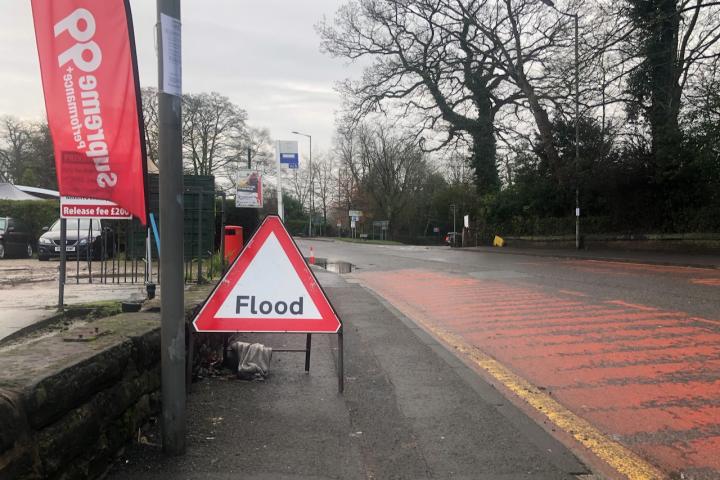 Cheshire East Council says it is putting pressure on United Utilities to resolve the flooding issues on Wilmslow Road which have been ongoing for years.
Residents and local councillors have been increasing frustrated with the floods which appear after every period of rain.
Whilst work was carried out in December, during which traffic lights were in operation at the busy junction, this was unconnected to the flooding issue but due to Cadent Gas carrying out emergency repair work at this location.
Cllr Craig Browne, Alderley Edge Ward Councillor and Deputy Leader of the Council, said "On Monday 13th December, I welcomed our Local Area Highways Officer to Alderley Edge and together we inspected a number of issues around the village, including flooding on Wilmslow Road. The officer has taken away an action to press United Utilities for some resolution of this long-standing issue."
He added "In 2019, the joint administration at Cheshire East Council took a decision to increase investment in our gully emptying programme, recognising that a number of gullies had not been emptied since the council's inception. As a result, from this year all gullies across the borough will be emptied on a biennial cycle.
"Our online gully checker shows that the gully outside Piccolino was last emptied on 27th August 2020 and that it is next due to be emptied in March 2022. On inspection, the gully was found to be flowing, although the silt level had built up to 100%. This is symptomatic of a blockage in the sewer network that the gully feeds into, further evidenced by the sink hole which developed at this location late in 2021 and which was repaired by United Utilities.
The information from the online gully checker can be found here.
Councillor Brown added "Unfortunately, Cheshire East Council is not in a position to require that the utility company carry out investigations of or proactive maintenance to their network; however, we do seek to work with them constructively, as is the case with all strategic partner agencies.
"Once Cheshire East Council is able to obtain further information from the utility company, I will of course provide residents with an update on this frustrating situation."