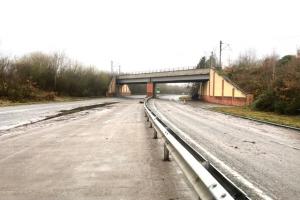 As many local residents will have noticed a section of the A34 bypass, between Prestbury Road and Alderley Road, remains closed due to flooding.
Pendleton Way has been shut since Storm Barra brought severe winds and heavy rain on Wednesday 8th December.
Yesterday Councillor Craig Browne inforned us "As a result of the sheer volume of rainwater we have experienced locally following the two recent storms, the pumping station that services the northbound carriageway has failed and is damaged beyond repair (the pumping station is serviced regularly under contract with a third party).
"CE Highways are currently considering how to resolve this issue utilising temporary pumps, although an effective long term solution is likely to be complex. It is anticipated that Pendleton Way will reopen tomorrow (Tuesday); however, this is dependent upon no further significant rainfall overnight."
Sally Hirst, who could not understand why such an important road has only two workers getting it open, sent us the above photos taken whilst walking her dog at 10.50am this morning (Tuesday, 14th December).
She said "The bypass had less water lying on it than Alderley Road. 2 men were working on the bypass, one man in a tractor and one man looking over the bridge at water being pumped by the tractor. Dirt was on the road and central reservation.
"Why was the road not being cleaned for opening? Is the tractor also pumping the new lake on the business site that is being constructed?
"At that time an ambulance had to travel into Wilmslow past heavy standing traffic.
"Why not a ditch/pipe to Whitehall Brook, why a pump? Why do we rely on pumps so heavily when roads were constructed with gravity drainage during the industrial revolution?"
Updated 15th December 2021: A spokesperson for Cheshire East Council said: "The Pendleton Way section of the A34, between Prestbury Road and Alderley Road, has been closed in both directions after the high volume of water from two recent storms and a fallen tree caused serious, irreparable damage to the pumping station at Whitehall Brook.
"Cheshire East Council's highways teams were on site throughout the weekend emptying the gullies and sweeping the large amount of mud and debris deposited by the flood water. Workers have been on site at the pumping station to assess the damage and install temporary pumps, which will enable the water to be cleared and the road to reopen, hopefully, later today.
"A long-term solution is likely to be complex due to the extent of the damage to the pumping station. We thank people for their patience in this matter."
Tags: