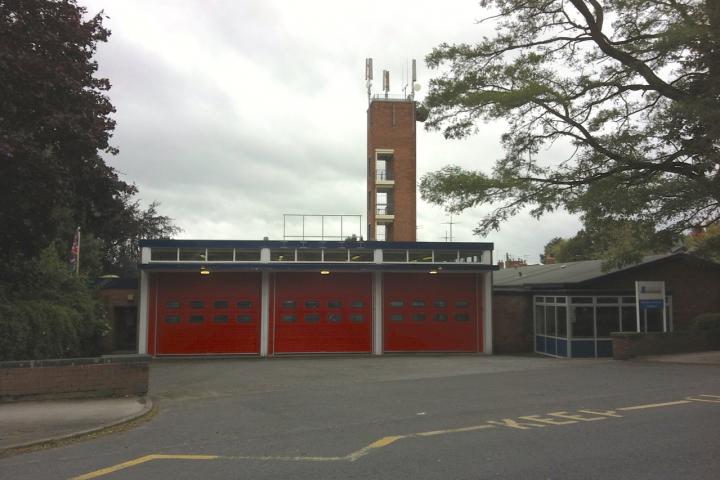 Cheshire residents are being invited to share their views on Cheshire Fire and Rescue Service's plans for the future which include change staffing arrangements at Wilmslow Fire Station.
The Service has launched a draft annual action plan for 2022-2023 which provides an update on progress against the Authority's four-year Integrated Risk Management Plan, as well as introducing several new proposals including the introduction of the day crewing duty system at Wilmslow Fire Station from the existing nucleus crewing system to a day crewing system.
Under the current nucleus system, the station is staffed by firefighters during daytime hours (07:00-19:00). Outside of these hours emergency response is provided by on-call firefighters who live or work within five minutes of the station.
A day crewing system sees the Fire Station staffed during weekday daytime hours (09:00-19:00) but with firefighters paid a supplement to provide guaranteed on-call cover outside of these hours. This system is in place elsewhere in Cheshire.
A spokesperson for Cheshire Fire and Rescue Service said "For Wilmslow, the Authority believes this is an appropriate model to meet local risks and demands. It also ensures 24/7 availability of the fire engine at Wilmslow in a sustainable way without needing to bring in supporting resources from elsewhere in Cheshire, which happens under the current crewing system.
"The Authority has been pursuing options to redevelop Wilmslow Fire Station with its emergency service partners to create a multi-agency hub. This was intended to release land to build the housing required for firefighters working the day crewing system. However, agreement could not be reached on a solution that provided the necessary benefits for all parties involved.
"Therefore the Authority will now explore options to buy suitable properties near to the fire station. It is anticipated that the cost of repaying the borrowing to buy nine houses could be covered by the revenue savings from changing the crewing system. As the houses will not be directly adjacent to the fire station there will be an impact upon response times during the day at weekends. There will be minimal difference during the week. Overall, the average attendance time of 6min 59sec would increase by around 47 seconds to 7min 46 sec.
"However, this time would still be well within the Authority's response standard of attending life risk incidents within 10 minutes on at least 80% of occasions. Furthermore, it would mean that Wilmslow would be provided with guaranteed on-call cover overnight without the need to bring in supporting resources."
This consultation will aim to get people's views on a range of proposals, which include:
Increasing the Authority's share of Council Tax (its precept) by 1.99% for 2022/2023. This would result in the Fire Authority's share of Council Tax increasing by £1.61 to a total of £82.48 per year for a Band D property in Cheshire.
Reducing the number of false alarms in domestic premises.
Developing work to increase awareness of water safety.
Reviewing its Key Stage 2 fire safety education programmes to ensure they are delivered in an engaging and consistent manner.
Implementing the outcomes of a review into improving the Authority's response to flooding and other water incidents.
Undertaking a review of the Authority's specialist resources, to ensure they are in the optimum location to meet the needs of Cheshire.
Revising its approach to introducing a day crewing duty system at Wilmslow Fire Station.
Engage with North West Ambulance Service, staff and trade unions to introduce a cardiac response capability in Cheshire that would see firefighters respond to cardiac arrests alongside paramedics.
Mark Cashin, Chief Fire Officer for Cheshire Fire and Rescue Service, explained: "We maintain a strong focus on both the safety of our communities and our firefighters. I would really like people to get involved with this consultation and share their thoughts about the direction we are planning to take as a Service."
If you would like to find out more information and have your say you can do so by visiting www.cheshirefire.gov.uk, where the full draft plan can be viewed and you can complete an online survey to provide feedback. The consultation runs until 7 January 2022 and the results will be presented to Cheshire Fire Authority for consideration at the Authority's meeting on 9 February 2022.