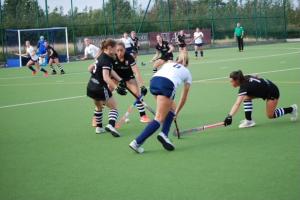 AEHC Ladies 1s travelled to Fylde this weekend with a point to prove and a strong squad ready to fight.
The first quarter started out strong with some good energy Forward, Imogen Walker showed a variety of 3D skills to secure two penalty corners that weren't successful but showed Fylde Alderley were here to play.
Second quarter saw Alderley lose their buzz a little after an early goal from Fylde, taking the score to 1-0. Despite some fantastic blocks Honey Dickinson and Tilly Hinds and the press and strong communication Alderley weren't able to finish.
Third quarter saw a lot of end to end play, with Fylde testing Alderley discipline and stretching the press. No scoring on either side but some grit and fight from midfielders Izzy Moores, Charlotte Dennett and Rebecca Ward who kept Fylde on their toes.
Alderley had a couple of good opportunities but fatigue started to rear its ugly head and despite some strong defensive out-letting from centre backs Sophie Hetherington and Sarah Hopkin, Alderley started to turnover the ball unnecessarily and fought to recover. Fylde obtained a short corner and this led to Fylde's third and final goal, with a shot into the bottom left corner, to complete the scoring for the game.
Overall a decent team performance with a score that didn't reflect the game play, some key takeaways and improvements to make before next weekends game against Wakefield 1s.
On Saturday 16th October AEHC Men's 1s travelled north to face Doncaster Men's 1s for a 1:30 push back.
It started so well for Alderley with a move straight off the training ground. A great ball from Scott Brown found Jones on the baseline who squared the ball to Jack Smith on the penalty spot to calmly finish in the bottom corner of the goal making it 0-1 to The Edge.
The lead however was short lived with Doncaster soon equalising after a sloppy phase of play, with the final touch coming off an Alderley player before crashing into the backboard. The home team then went 2-1 up after the third re-take of a short corner with the ball flying past the postman's head. Alderley were better in the second quarter with Captain Simon Parr (player of the match) looking as sharp and dangerous Doncaster however couldn't believe their luck when an unmarked man found the ball in front of goal to make it 3-1 at half time.
Alderley tried to improve in the second half but their basics were just not there. Energy levels increased in the fourth quarter for Alderley but they couldn't create any clear chances nor stop Doncaster scoring another short corner that went in the top corner of the net. 5-1 it finished Alderley Men's 1s will be extremely keen to ignite their season next Saturday 23rd October away to Wakefield at 1:30
Tags: