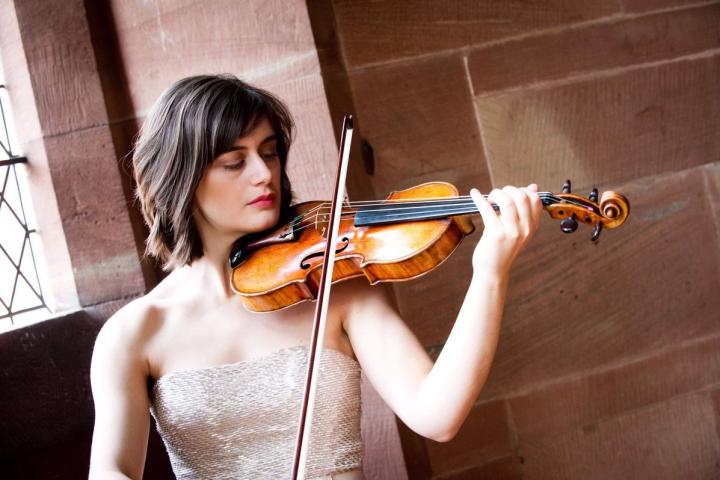 The Alderley Edge Symphony Orchestra is delighted to be back in business again, after a Covid-induced silence of over a year.
On Sunday November 14th, we will be giving our first concert for eighteen months, in the Festival Hall, Alderley Edge. We will be joined by top international conductor, Stephen Threlfall, and the talented young violinist, Sophie Rosa.
From 1995 - 2019 Stephen Threlfall was Director of Music at Chetham's School of Music, the UK's leading music school. As a conductor, Stephen has earned much acclaim for his performances, recordings and broadcasts having conducted at many major venues and festivals throughout the UK and alongside many renowned international solo artists. His engagements have taken him to the USA, Europe and Scandinavia, with regular visits to the Urals Philharmonic and Bach Orchestras in Yekaterinburg and the Royal Oman and Amman Symphony Orchestras.
Sophie Rosa enjoys a varied career as a soloist, chamber musician and orchestral leader. She has performed across the UK as a recitalist in venues including the Royal Festival Hall, the Purcell Room, the Wigmore Hall, Kings Place and Bridgewater Hall and has performed as soloist with orchestras including Royal Liverpool Philharmonic Orchestra and Manchester Camerata. Sophie is currently leader and artistic director of Sinfonia Viva. As a keen chamber musician, Sophie is a member of Pixels Ensemble and also performs with contemporary music group, Psappha.
The programme will open with Schubert's Overture, Rosamunde, to be followed by the famous Brahms Violin Concerto. This piece, richly orchestrated and full of lyrical melodies has long been a favourite of virtuoso violinists. It is known for its difficulty – in fact one conductor and pianist famously said it was a concerto "not for, but against the violin"!
We have no doubt, however, that our brilliant young violinist will be more than equal to the challenge. This is what Sophie had to say about the piece: "The Brahms is such a monumental concerto. As a performer or listener you can take it with you throughout your whole life, revisiting it and appreciating it in different ways. It is a truly special piece of music, full of beauty, substance and character."
In the second half of the concert, the orchestra will play Schumann's Symphony No 4, a popular romantic symphony.
Stephen said: "I am really looking forward to working on this programme of outstanding works with the AESO. To perform also in collaboration with violinist Sophie Rosa, of the many outstanding musicians from my time at Chetham's School of Music, will be particular pleasure for me. Musical collaboration and friendships are invaluable and I hope will underpin the preparation and enable us to present a memorable concert for
you, our audience."
The concert will take place at 7.30pm on Sunday 14 th November 2021 in Alderley Edge Festival Hall, Talbot Rd, SK9 7HR. Tickets cost £12 for adults and £1 for under eighteens. Tickets can be bought in advance through the website www.aeso.org.uk or on the ticket hotline 01565 733230. Please try to buy in advance online, rather than at the door, to avoid any congestion.
For more information about the orchestra visit the website.
If you are a string player looking to join a friendly and ambitious orchestra get in touch with us via the website or by phoning Roger Dowling on 01925 756390.
Guest post by Helen Hall.
Tags: