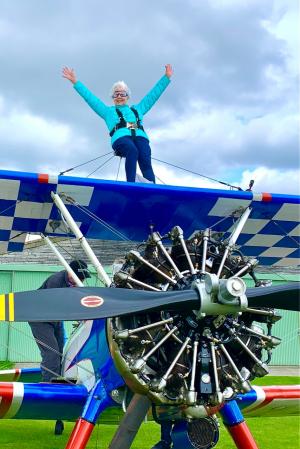 An incredible lady from Wilmslow has completed a sponsored wing walk to raise yet more funds for her Christmas card charity.
Due to the lack of funds raised last year as the shops were forced to remain closed, Sheila Hallas, who will be 90 in March, wanted to do something to make up for this.
So in September she undertook a wing walk on the top of a 1940 biplane. Sheila reached dizzy heights and speeds of 140mph with bumps and rolls thrown in. In the process Sheila has raised nearly £5000 to be shared by the charities that sell cards in the shops.
Sheila started selling Christmas cards for charities in 1971 and since then, along with an army of volunteers, Combined Charities Christmas Shops have raised £5.5m for 50 national and local charities.
Unfortunately 2020 was a disaster for all charities as the pandemic put a halt to fundraising initiatives and prevented the opening the charity's 5 pop-up Christmas card shops.
Sheila Hallas told wilmslow.co.uk "Take off was bumpy, no runway, just a rough field. Once up way way above the trees, the view was to the horizon. Miniature fields, cows, bales of hay, ploughed land and some with crops.
"I felt unattached, standing on the top wing of the biplane, but of course I was securely tethered. I'd do it again."
She added "I wanted to make a special effort for this year. The pandemic stopped all fundraising and all charities suffered last year. This is our 50th year, so it is another reason to try to make a difference. I am going to give the donations to all our Charities. This hopefully will give each one a bonus of £100.
"We do hope others feel they want to support Charities this Christmas.
"A warm welcome to all who come to our 50th Christmas Shops, in Wilmslow, Macclesfield and Altrincham Libraries, and The Curzon Cinema in Knutsford."
If you would like to support Sheila you ca donate online via https://www.gofundme.com/f/dn8hf-the-skys-the-limit
The Combined Charities Christmas Shop at Wilmslow Library will be open from Saturday October 30th to December 11th.